UPDATE: We have results of the public records requests. Click here to see them.
ORIGINAL: Our post last night on the rapidly-devolving Sharon Weston Broome administration atop the city-parish government in Baton Rouge had as some of its focus the decision, outlined in a report by WAFB-TV in Baton Rouge, to cancel a $125,000 contract with LSU to assist with the Baton Rouge Police Department's Baton Rouge Area Violence Elimination program and to instead award smaller contracts to community members – among them Arthur "Silky Slim" Reed.
Reed's contract, for $9,800, was to serve as a "street counselor." We haven't been given any reason to believe that means much other than he would have been a snitch for the police, and the fact – according to Broome – that he'd never actually been paid anything would indicate he wasn't a very productive snitch.
But perhaps that's not an accurate representation of what a "street counselor" is.
What did come from the revelation by Broome that Reed had such a contract, though, was lots of questions about whether Reed was the only vulture feeding at the corpse of LSU's BRAVE contract. As such, this went out this morning…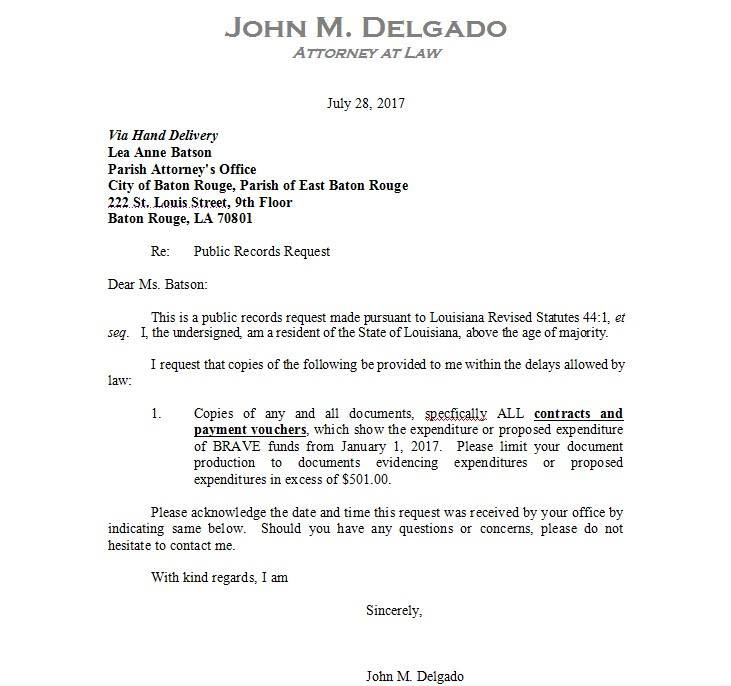 Delgado, the former Metro Councilman and major-president candidate in the 2016 election, was extremely incensed by the revelation that Reed got a BRAVE contract; he also serves as the lobbyist for the Baton Rouge police union and there is absolutely no question about how upset the union is over Reed being paid to participate in crime-prevention efforts given his status as an ex-convict who publicly slurs cops in this town. That's why Sgt. Bryan Taylor, who heads the police union, called for Broome's resignation yesterday as a reaction to the BRAVE contract revelation.
So what comes from Delgado's public-records request? Well, there could be a few interesting items.
As he noted to us this morning, the news media request which produced the disclosure of Reed's BRAVE contract had a flaw in it; namely, WAFB didn't ask to see payment vouchers. Now, it's hard to believe that Broome would have been stupid enough to deny actually paying Reed when there would be evidence to the contrary in the city-parish's payment voucher records. She's no Werner von Braun, but she can't possibly be that unwise. Hold that thought, though, because we'll come back to it in just a minute.
But what's more likely to come from this public records request is evidence that Broome took that $125,000 the BRAVE program was paying LSU and proceeded to grease a number of the mayor's political supporters with contracts and payments for meaningless service as "street counselors" and the like; essentially wasting tax dollars on payoffs that had been spent far more productively with LSU.
What BRAVE is all about is it's a mini-version of New York's highly-successful CompStat program, in which a mountain of crime data is pumped through a computer system in order to target the precise areas where crime is most likely and surge a police presence to those areas in order to prevent it. LSU was the provider of the data operation. Broome came in office and proceeded to dump LSU and the data operation and replace it with "street counselors" like Silky Slim. Delgado's public records request could produce the proof of that.
Moreover, it could well resolve something about all this which has not made sense at all. Namely, that Broome said she didn't know about Silky Slim getting a BRAVE contract until WAFB's public records request came in. Except the parish attorney's office said they didn't have any contracts for Silky Slim or his nonprofit on file, so how did Broome find out about a contract through that public records request? How would it have produced evidence of such a deal?
The obvious answer is she's lying, and knew about Reed's arrangement, and opted to play dumb – only she did that poorly.
And why is the contract for $9,800? That's a rather peculiar number.
One explanation arises out of the fact that for disbursements under $5,000, the city-parish doesn't do contracts; it just does payment vouchers. So if you want to pay somebody just under $10,000 without having a contract on the books, pay them $4,900 twice and $9,800 all told.
Meaning that Silky Slim could have had a deal to get $9,800 in BRAVE money and nobody would have known about it even after WAFB sent in a public records request looking for contracts; because WAFB didn't think to ask for payment vouchers as well. And if Broome had kept her mouth shut she could have dodged this firestorm, but instead she was dumb enough to blurt out that Reed had a BRAVE contract.
Which calls into question whether she really is dumb enough to lie about whether Reed got paid after all. Because if there are two payment vouchers in the files calling for Reed to be paid $4,900 each, we're going to have something of a political nuclear meltdown in Baton Rouge. And this might be true even if he wasn't actually paid.
Ask yourself this – does it really make you feel better that the money didn't actually change hands, once you know that it was authorized? Because Silky Slim is Silky Slim – he isn't a better guy if he's not so stupid as to tout the "justice" of Gavin Long Wednesday and blow up Broome's deal with him to get paid for nothing.