Here's a rather triumphant press release from Rep. Garret Graves' office announcing that the Comite River Diversion Canal, a project sitting in bureaucratic purgatory for more than 30 years, is finally going to be moving full steam ahead two years after a massive flood in the Baton Rouge area that canal would have ameliorated brought it to the forefront…
Congressman Garret Graves (South Louisiana) announced today one of the largest flood protection investments in Louisiana history — nearly $3 billion in federal funding for priority flood and hurricane protection projects in south Louisiana. This includes nearly $1.4 billion in new federal funding and approximately $1.5 billion in recently announced flood protection and mitigation funding. The federal funding provides well over half-a-billion dollars to complete the Comite River Diversion Canal and major flood control projects in East Baton Rouge Parish – the culmination of a tireless determination to get Comite done and to enhance flood protection for the entire Capital Region.

As Chair of the Water Resources and Environment Subcommittee, Graves has jurisdiction over the Corps of Engineers and has been working closely with the White House, Army and Corps leadership on appropriations, expediting projects and realigning priorities.

"This is not a drill. This is not merely a hope and a prayer. The logjam has been completely broken, and we are getting the best flood protection we've ever had.  Comite will be completed in three-to-four years, and the flood protection we deserved in 1983 and again in 2016 will soon arrive throughout the Capital Region and the state," said Graves, the chairman of the Transportation subcommittee on Water Resources and Development (jurisdiction over the Corps of Engineers).

A landmark achievement, this funding is a direct result of a 2016 Graves provision in the Water Infrastructure Improvements for the Nation Act that instructed the Corps to "provide priority funding for and expedite the completion of [the Comite River and East Baton Rouge Parish Watershed] projects" (Public Law 114–322; 130 Stat. 1707). These two companion projects are the incomplete legacy of the Great Flood of 1983. Together they are designed to rapidly drain floodwaters from the western rim of the Amite Basin.

On April 5th, Cong. Graves and Governor John Bel Edwards announced an additional $1.213 billion in federal flood mitigation funds, which will be applied to additional flood mitigation measures and projects in the Capital Region and throughout Louisiana. Graves has urged investments in the West Shore, Upper Barataria Risk Reduction, Amite River, Lafourche Parish hurricane and flood protection, Morganza to the Gulf projects and others.

Graves continued, "After our countless meetings and extensive negotiations with Corps leadership and White House officials, Louisiana will take an historic leap forward to tackle historic flood conditions.  This is one of the largest investments in flood protection in Louisiana history.  No more studies.  We will be turning dirt and protecting our families."

"Since the 2016 flood, we have called for 'Comite Plus' – Comite, Amite, Manchac and comprehensive drainage improvements throughout the basin. With nearly $2 billion in federal funding, the Comite Plus strategy provides the best flood protection ever in the Capital Region. We appreciate President Trump, Vice President Pence, Mick Mulvaney and others working with us to help make this happen. Now, let's get that bridge over the Mississippi River."

New Federal Funding:

$343 million (100% federal funding) Comite River Diversion Canal
$255 million East Baton Rouge Flood Control
$760 million West Shore Hurricane Protection Project (St. John, St. Charles, St. James parishes)
$15 million Grand Isle protection and berm reconstruction
$15 million to develop coastal restoration and flood protection solutions (Amite River, Lake Pontchartrain and Vicinity, Westbank and Vicinity, South Central Louisiana, Upper Barataria)

Recently Announced Federal Funding:

$300 million in Fiscal Year 2018 Corps of Engineers funding
Including $14 million for Comite
$300 million FEMA's Hazard Mitigation Grant Program
$1.2 billion in Community Development Block Grant flood mitigation
$50 million in USDA funding specifically for Livingston Parish flood mitigation – made available via the "Graves' amendment" in the March 2018 federal funding bill.
For those of our readers who aren't familiar with the Comite River Diversion Canal, it's a project which was first dreamed up in the early 1980's as a means of alleviating the periodic flooding afflicting the eastern and southeastern sides of the Baton Rouge area. Most people don't realize that the bayous and creeks in the Baton Rouge area generally do not empty into the Mississippi River, but almost none of them do. Instead, they empty into the Amite River, which makes up the border between East Baton Rouge and Livingston Parishes, and the Comite River empties into the Amite at the Hwy 190 bridge into Denham Springs.
What the CRDC will do is provide a means by which the Comite can empty into the Mississippi through Lily Bayou, west of Baker – that's one of the only creeks and bayous in the area which does flow into Big Muddy. A map…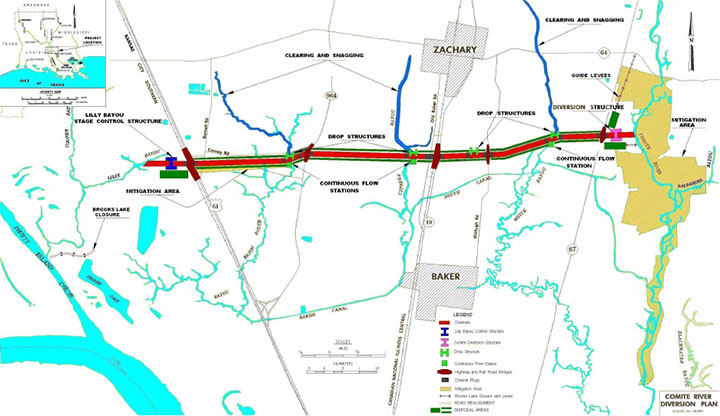 After the 2016 flood, it was estimated that the CRDC would have eliminated better than 25 percent of the flooding which happened in the Baton Rouge area. That would have saved some 15-20,000 households from being damaged, which could have prevented a billion dollars or more in losses.
It's a disgrace this project has taken so long to get built, but at least now it appears it'll finally happen. That's a big deal, it's a huge economic development incentive for the northern part of East Baton Rouge Parish and it's a major feather in Graves' cap having taken office in Congress less than three years ago.
UPDATE: Here's audio of Sen. Bill Cassidy discussing the breakthrough as well…
Advertisement
Advertisement