The Texas Republican Party posted a series of tweets on Wednesday attacking U.S. Rep. Beto O'Rourke for not agreeing to participate in a debate against Sen. Ted Cruz this Friday.
They suggested that he's "ducking debates" with Cruz because he's skateboarding, meeting up with his former punk-rock band, or been arrested.
O'Rourke was arrested in 1998 for driving under the influence. The case was dismissed after he completed a court-recommended DWI-program.
He was previously arrested in 1995, charged with burglary, after he and a few friends climbed under the fence of a building on UTEP's campus and triggered an alarm system. The charges were later dropped.
The two, running for Texas's U.S. Senate seat this November have been debating their debate schedule since April.
O'Rourke agreed to debate Cruz but requested that changes be made to the list of events, including moving some to weekdays instead of Friday nights.
Here are O'Rourke's excuses, according to the Texas GOP: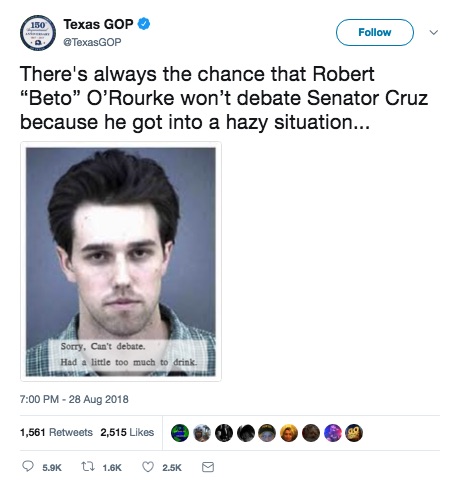 There's always the chance that Robert "Beto" O'Rourke won't debate Senator Cruz because he got into a hazy situation… pic.twitter.com/4nmd42AEkl

— Texas GOP (@TexasGOP) August 29, 2018
Another, by the way is he wearing a dress? A women's floral shirt? What kind of band is this– cross-dressers?
Maybe Beto can't debate Ted Cruz because he already had plans… pic.twitter.com/LdqKTh3yK4

— Texas GOP (@TexasGOP) August 28, 2018
Still another:
So Beto has been ducking debates with Senator Ted Cruz. We can't imagine why, but we do have a few ideas… pic.twitter.com/3n2HtwY9pQ

— Texas GOP (@TexasGOP) August 28, 2018