…which are on the ballot. We know that voting on constitutional amendments is one of the things our readers are commonly infuriated with, as those amendments often involve very in-the-weeds subjects and many of you suspect trickery on the part of crooked special interests and legislators in bringing them to your ballot, so we'll endeavor to make them more cut-and-dried.
And to do so, we're going to call upon the aid of Japanese haiku.
Seriously. We will. New Orleans smartass David Newman, whose Twitter may be found at @helleaux_newman, worked up six haikus to briefly describe the amendments, and they're about as succinct a summary as it's possible to concoct. We're using them.
CA NO. 1 (ACT 719 – SB 31) – Prohibit felon from public office
There's a history behind this, which is the state used to have a 15-year prohibition on convicted felons seeking public office in state and local elections but one such crook, the New Orleans Westbank's Derrick Shepherd, sued about that law and won, and then promptly lost a race for the state legislature. So far Shepherd hasn't managed to attach himself to political office, and while this bill wouldn't affect him it would affect other jailbirds interested in holding power.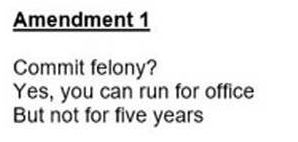 Without this bill the same slimeballs will run a revolving door between the statehouse and the Big House they've often run. We'd prefer the 15 year ban, or even a lifetime ban, but if all we can get is a five-year ban on running for public office without a gubernatorial pardon then we'll take it. Vote yes.
CA NO. 2 (ACT 722 – SB 243) – Unanimous jury for noncapital felonies
This one you've probably seen a bunch of coverage of. At present, Louisiana is more or less the only state in the country where a 10-2 jury verdict is enough for a prosecutor to get a conviction, and the amendment would put the state more in line with the rest of the country where a felony conviction means all the jurors vote guilty.
Virtually nobody from the political class opposes this, though we'd guess voters will be a little less enthusiastic about it. It's going to pass, but not as overwhelmingly as all the cool kids on both sides of the aisle hope. And we're fine with it passing – but the result is going to be that it's going to be exceedingly rare that anybody gets convicted of anything in Orleans Parish ever again. Just so everybody understands.
CA NO. 3 (ACT 717 – SB 263) – Permit donations from political subdivisions
That this wasn't already a provision of state law before is somewhat puzzling, and it's a function of how severe Louisiana is in terms of the control of the state capitol over the political life of the state. This amendment would relax some of that control and give parishes and cities some autonomy in terms of making deals with each other on things like fire trucks, bug sprayers and other equipment which might otherwise involve having to spend money buying new things. With this amendment they'll then be able to enter into cooperative endeavor agreements to share or loan equipment like that to each other.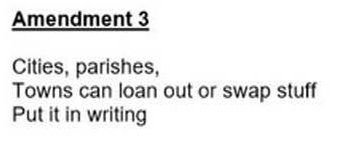 We're all for giving local governments power devolved away from state government, and then imposing accountability on those local governments. We like a "yes" vote on this one.
CA NO. 4 (ACT 720 – SB 59) – Transportation Trust Fund
Here's the amendment a lot of people have been talking about to the tune of taking money which has been siphoned out of the state Transportation Trust Fund to help fund the State Police, and rededicating it to road construction and maintenance which is supposed to be what TTF is for.
We're all for this amendment. But two things we don't like are going to come from its passage – not because the amendment is bad, but because this is Louisiana. First, the state police will then be at the Capitol for next year's legislative session telling horror stories about layoffs and patrol cars breaking down for lack of maintenance, with car wrecks piling up all over the interstates, because they won't have any money from the state general fund. Just get ready for that, because it's coming just like there wasn't going to be any college football or all the seniors were getting evicted from the nursing homes. That's a given.
And second, you're going to hear triumphant boasting from the state Department of Transportation and Development about how now that the state police aren't dipping into the TTF and its monies go far more to the roads, NOW'S THE TIME to pass an increase on the gas tax so Louisiana can work on its infrastructure needs. The fact that there's already more money for roads in the TTF since the state police will be out of that till won't matter a bit.
Vote for this, sure, but understand that there's a strategy afoot to demand more money from you two different ways the minute you do.
CA NO. 5 (ACT 721 – SB 163) – Extend eligibility for tax exemptions
What this amendment does is expand some of the homestead exemptions and property tax rates which have been set up for folks who are elderly, disabled and so on, and particularly spouses of first responders killed on the job, etc., to trusts. In other words, if you're over 65 and you put your house in a trust for your grandkids, this would allow you to continue taking advantage of the fact your property tax rates are frozen until you die.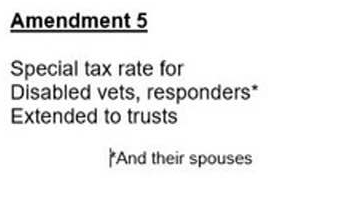 It's a nice amendment, but frankly this is something local governments ought to be in a position to do on their own. After all, this is their tax base we're talking about, and this amendment is the state imposing rules on them which rob them of their freedom to govern effectively. We're not for it, though we're by no means opposed to the result the amendment seeks to achieve. Let's not clutter the constitution with things that ought to be governed locally.
CA NO. 6 (ACT 718 – SB 164) – Reappraisal of residential property
What this amendment will do is require a four-year phase-in of tax liability for homes subject to the homestead exemption when a reappraisal increases assessments by more than 50%. This is particularly a problem in New Orleans, because what's happening is there are a lot of neighborhoods being gentrified in the Big Easy thanks to the AirBnB craze – hipsters with money from Boston and San Francisco are buying up houses in Treme and the Bywater, for example, and then fixing them up to rent on the weekends to other hipsters with money from Boston and San Francisco. The longer-standing residents of Treme and the Bywater, who actually live there, are seeing their property assessments skyrocket and they're being priced out of their neighborhoods due in part to property taxes on an upward spiral.
The amendment wouldn't fix the problem. It would just mean gradual increases. The only way to fix the problem is for people to live in houses they can afford, and where there are neighborhoods like Treme and the Bywater which are close enough to the French Quarter that hipsters with money bid up the prices, the market is going to fix that by inducing the longer-standing residents to sell at a premium.
That's what gentrification is. New Orleans could use more of it, rather than less. We're a no on this one.
And also, there's this measure which isn't one of the amendments, but it will be voted on as a parish-by-parish proposition…
PW Fantasy Sports – Authorize Fantasy Sports Contests – Act 322, 2018
This is on your local ballot, and it's envisioned that some parishes will allow fantasy football and other games to involve prize money, and some won't. Basically, a yes vote means you want DraftKings and FanDuel to operate in your parish, because with those sites you pay an entry fee and can get paid if you win.
The Family Forum and some of the other anti-gambling people are against this, and we understand where they're coming from, but for the most part we're not talking about a lot of high-stakes gambling here and considering some of the things which are legal in Louisiana this isn't overly harmful. We're a yes and we'd like to see all 64 parishes vote this in.