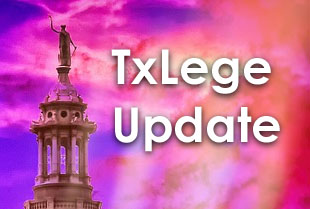 With 25 days left in the Texas Legislative session, the pieces of tax relief reform are coming together.
The House passed the property tax "trigger bill," SB 2, to assure that the voters of a taxing entity get to vote on any property tax increase that exceeds 3.5 percent.
The Big 3 were united in promoting this as part of a package with other bills waiting in the wings. Like bulls ready to be let out of the pen …
A Texas House committee immediately passed a bill to up the state sales tax by a penny to offset any losses from the trigger bill (roughly $5 billion).
A state Senate committee rushed to advance a House school finance reform bill (HB 3) that Republican leadership vowed to not approve if unaccompanied by local property tax relief. An amendment added to SB 2 requires that HB 3 be approved by the legislature in order to go into effect.
Gov. Greg Abbott tweeted support for the package of bills, supporting the penny sales tax increase:
"TX House Ways & Means Committee just passed out a great bill that lowers your school property tax rates by more than 15%. It dedicates 100% of a penny increase in sales tax to cutting your property taxes. This is on top of the bill limiting local government raising your taxes."
Conservative critics have pointed out the legislation may not amount to property tax relief but "transparency" and a trigger for local voters to approve/disapprove property tax increases.
The Senate is rumored to vote Friday on school finance reform which includes a modest teacher salary boost, extra money for full-day pre-K, and some tax relief provisions.
From the hip: Now the hard part begins: How to pay for this thing. Reading a little closer, it would seem the Senate is still reliant on the 1-cent sales tax increase for its plan (which seems to have stalled for the meantime — see earlier story) and the House is hoping to draw $2.3 billion from the state's "rainy day fund" savings account (derived from oil and gas excise tax revenue) to compensate for the tax relief. House leadership appears to have now backed away from advocating for the sales tax increase. Which plan will win out (or if there will be a mixture of the two approaches) has yet to be determined. When the rest of the bills clear the chamber keep a close eye on who the conferees are for conference committees between the chambers to hash out their differences.
Advertisement
Advertisement