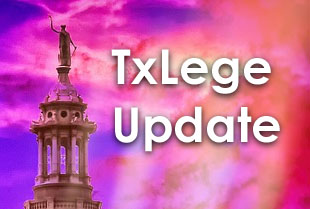 The Big 3 met Thursday to lay out the details of a compromise reached between warring versions of the budget bill and an accompanying school finance reform bill — the penultimate announcement of the 86th Texas Legislature (sorry, Chick-fil-A).
School finance, which was inextricably tied to this year's budget and always a big chunk of state spending (28% of the state's total $217 billion budget goes to K-12 public ed), will receive many reforms after this session. Observers speculated whether the death of several proposed fixes would mean Gov. Greg Abbott would call for a special session … or two, or three. But with the compromise reached by "conferees" from the House and Senate and announced by Abbott, Lt. Gov. Dan Patrick, and Speaker Greg Bonnen, this session can end with some semblance of major success ("transformational legislation" they called it).
Note: The below information is culled from a press release from the Governor's office. Bracketed text ours.
Property taxes: The state will provide about $5 billion in statewide property tax cuts. School property tax rates are expected to drop by an average of 8 cents per $100 valuation in 2020 and 13 cents per $100 valuation in 2021.
Revenue caps and triggers: The state will cap property tax revenue at 3.5 percent for cities and counties and 2.5 percent for schools. The goal is to slow the future growth of property tax bills. Cities, counties and schools could raise more revenue from property taxes with voter approval [this is the "trigger" provision, where voters have to approve any increased amount over 2.5 or 3.5 percent — the school cap does not go into effect until 2021].
Teacher raises: More than $1.6 billion will go toward raises for teachers, librarians, nurses and counselors. "Veteran educators" would receive an additional $4,000 in "total compensation" packages. Educators will see an average increase of $510 in retirement benefits through House Bill 3 and each school employee will see about $412 in average new retirement benefits.
Teacher incentives: The measures also include $140 million for a merit-based pay program; $30 million for an extra month of school in the summer; $8 million to mentor new teachers and $6 million for professional development for teachers. [It appears no specific mechanism was reached as to "merit pay," leaving each school to figure out how to dole out the raises.]
School programs: The cost of pre-kindergarten will be covered for low-income families. Funding to help students with dyslexia and to provide kindergarten through third grade reading programs is also covered. [Gov. Abbott has long been a proponent of expanded pre-Kindergarten and has, in the past, signaled support for universal pre-K, to the ire of many fiscal conservatives.]
It appears the state will access Rainy Day Fund money to pay for any shortfalls caused by the reforms, as opposed to a now-defeated state sales tax hike of one penny.
Speaker Bonnen pointed out that these reforms were pro-active rather than responsive to a lawsuit over public ed funding equity.
"We have all been together, we stayed together, and frankly we're more together than we've ever been," Bonnen concluded, noting that school finance was an early goal of the 86th Legislature.
From the hip: As of now we're taking the Big 3's word for it, as the bill is several hundred pages in length and agreed upon at the last minute. They deserve this moment in the sun. There do not appear to be any surprises from the press conference and announcement. There was a general agreement that 1) Robin Hood would only be bought-down (by 47%), not eliminated, and 2) property taxes will continue to increase, just not at the prior rate and now voters get a remedy. A major compromise involves that teachers will both receive an across-the-board raise and can compete for some form of merit pay increase — a bone of contention between the chambers this session, with a major policy think tank gunning for merit pay. Sunday is the deadline for any agreements to bills in conference mode, with session coming to an abrupt halt on Memorial Day. Unlike in 2017, you can confidently go ahead and book those summer vacation plans.