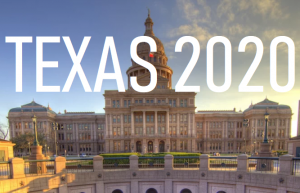 Democrats are thirsty to flip the nine Texas House seats it will take to regain control of the lower chamber.
It's a thirst that was quenched within recent legislative memory. It was only a decade ago, after an election year that propelled Barack Obama into the White House over John McCain, that the House was split evenly between Republicans and Democrats, and a moderate Republican "business conservative" was elected Speaker as the consensus choice. This set the tone for an entire decade of policy-making.
Like in 2009, a redistricting process is in its infancy, and the ruling party in the House will prepare much of the stage for the next decade of Texas representation on the state and federal levels.
As Texas GOP Chairman James Dickey pointed out last week in reviewing the state party's Red Alert initiative, the stakes have rarely been higher. Almost half of statewide turnout will come from the Dallas and Houston areas, and 66% will come from the state's four most-populated areas — and this is where Republicans have under-performed in recent elections, particularly in the so-called "urban suburbs."
Dickey gave a positive outlook on the health of the Republican Party of Texas and GOP prospects, but urged that there are several seats at risk and worth defending if Texas is to remain red (see graphic below):
Key to holding on, Dickey said, is identifying and recruiting from the massive numbers of persons moving to Texas each day. Voter registration is on the rise — from around 13 million Lone Star State voters in the 2012 primary to 15.2 million in the 2018 primary. That number may jump by another million, and how much of that will be Republican or Democratic depends on how much either party is motivated to reach the new voters (even the dreaded Californians).
Another element will be fundraising. As Texas State Republican Executive Committee member Mark Ramsey pointed out in a chart shared to social media, the Texas GOP has raised more money than in recent history, which is a positive sign for fundraising potential throughout the 2020 cycle:
From the hip: There are a couple of possible handicaps to the rosy fundraising picture given above.
One, with Texas House Speaker Dennis Bonnen having announced his decision to not seek another term, the $3 million his Speaker's PAC has raised is now somewhat tied up. In a typical election year, major contributors will line up behind a prominent leader such as a state House speaker as a means of attracting/distributing donor dollars. It is likely that Lt. Gov. Dan Patrick or Gov. Greg Abbott will fill in this gap, but to what extent will Bonnen's $3 million be considered too "radioactive" to touch is in question.
Secondly, the Democrats have their cross-hairs on Texas, which means more money will have to be raised and will have to be spread more widely in order to fend off Democratic challengers. Dickey said previously there is no path forward to the White House without winning Texas. While it's not likely that Texas will flip anytime soon, that doesn't mean Democrats won't be working feverishly to that goal. They will be, and anti-Trump fervor will be fueling the engine for that effort.
The Texas GOP and allied groups must aggressively and effectively defend the vulnerable districts Dickey laid out in order to hold on in 2020. No, Texas isn't likely to go blue in 2020 or 2022, but a split House could make a conservative legislative agenda prohibitively difficult to advance and will more than likely produce a legislative map that carves out gerrymandered minority districts that favor Democrats.
This is Part 4 of a series on Dickey's Red Alert plan.
Graphics courtesy of James Dickey and Mark Ramsey. To see Dickey's entire slideshow visit bit.ly/RedAlertTexas.
Advertisement
Advertisement