When East Baton Rouge's brand new Park Elementary opened its doors for the first time this school year, Principal Stephanie Tate gave the rebuilt facility a rave review: "It's more than what I was envisioning," Tate said. "You can talk about it, but actually seeing it in person … words cannot describe." 
Tate's surprise makes sense: the new $21.7 million school is literally twice as big as it needs to be, and it ended up costing taxpayers more than twice as much per student as was planned back in 2008 when the project was approved. 
How was this boondoggle allowed to happen? The blame appears to lie with district officials who had a decade of opportunity, and all the data they needed, to prevent it. 
As the chart below reveals, district officials knew Park Elementary's enrollment was gradually declining, from 428 students when the rebuild was approved in 2008 to just 220 students in 2019.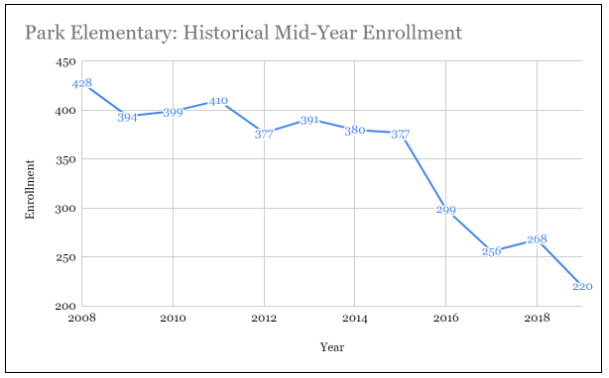 Source: Louisiana DOE February Enrollment Datasets
But instead of reducing the project's scale to serve the school's actual needs, officials moved forward with plans for a 450-seat school and handed the bill to Baton Rouge taxpayers.
As a result, the new Park Elementary was completed at nearly triple the regional median cost per student and more than double the originally planned price per seat. If the new school had been designed to serve its 2019 enrollment, Baton Rouge could have saved as much as $10 million to reinvest in its public schools.
Park Elementary Construction Costs Compared To Regional Averages
Metric
Students
Cost Per Student
Cost Per Square Foot
Square Feet Per Student

Regional Average

$33,969

$193

184

At Designed Enrollment

450

$48,222

$276

174

At 2008 Enrollment

428

$50,701

$276

183

At 2019 Enrollment

220

$98,636

$276

357
With Park Elementary now serving just 49% of its 2008 enrollment in a building that is just 51% utilized, East Baton Rouge officials have no reason to expect an enrollment increase will arrive to fill the school's vast amounts of empty space. 
In fact, district officials would be wise to expect that more and more families will vote with their feet to avoid a school that is not merely deserted, but also failing: just 10% of Park Elementary students scored proficient on their LEAP assessments last year, and the school received an "F" from the state DOE in student performance.
Advertisement
Advertisement