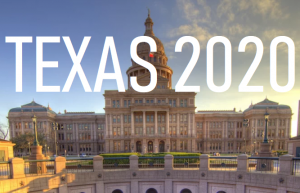 A trio of runoff elections may not change the Texas political landscape much when all is said and done. But at least one race will give Republicans a test case to see if they can hold turf in the "urban suburbs" of Houston.
Gov. Greg Abbott set three special runoff elections for Jan. 28 (with five days of early voting starting Jan. 21) in state House districts 28, 100, and 148.
As we previously reported, each race is expected to stay in their respective party's hands — HD 28 with the GOP and HDs 100 and 148 in the solid Democrat category.
We review each race below, what to look out for, and how massive primary voter recruitment activity could affect candidate chances:
House District 28 (suburban Houston)
In HD 28, which covers a portion of Fort Bend County near Houston, including parts of mega-suburbs Katy and Sugar Land, voters will be asked to choose between Democrat Eliz Markowitz or Republican Gary Gates. Based on the latest available numbers from the seven-way race featuring six Republicans and one Democrat, Markowitz received 11,355 votes (39%) and Gates 8,271 votes (28.5%). Markowitz led the pack by a wide margin, but if there had been another Democrat in the race her numbers may not have been as high.
Support from the five other Republicans could easily push Gates across the finish line in the runoff. Watch to see if the local GOP can rally together around Gates, whom some consider to be somewhat of a polarizing figure from previous candidacies of his. Gates received a congratulatory comment from Texas GOP Chairman James Dickey on election night, and with 2020 operations in gear to recruit new voters ahead of the March primary (the Republican Party of Texas has deployed field staff to Houston), we can expect some of this effort to benefit Gates.
As to speculation that demographics have greatly shifted, theoretically forcing a powerful Chairman such Rep. John Zerwas (who currently represents the district), a conservative favorite such as Rep. Rick Miller, and a long-term Congressman such as Pete Olson into retirement: our previous analysis indicates that it may have been a case of three retirements on top of each other in Fort Bend County and nothing more. We do not suspect that the demographics of HD 28 have shifted so much as to favor a Democrat against a well-funded Republican in a special election runoff.
House District 100 (South Dallas)
In HD 100, five votes determined who would take on the front-runner. The heavily Democrat south Dallas district formerly held by now-mayor Eric Johnson saw Lorraine Birabil (33% or 2,274 votes) top the field, followed by James Armstrong III (21% or 1,421 votes).
Daniel Davis Clayton (1,416 votes), a former Texas State Democratic Executive Committee member, has not called for a recount — indicating that he may be willing to support either Birabil or Armstrong in the special runoff. Clayton may end up one of two kingmakers, as Sandra Crenshaw finished election night with 19% (1,303 votes), not far behind Clayton, and with a mostly grassroots effort behind her. Watch to see who endorses whom in the month ahead.
House District 148 (Central Houston)
In HD 148, the 15-candidate free-for-all to replace retiring Democratic Rep. Jessica Farrar was a see-saw as election night results came in. But finally, a runoff emerged between Democrat Anna Eastman (20% or 4,201 votes) versus Republican Luis La Rotta (16% or 3,272 votes).
The nearest contenders — Democrat Adrian Garcia (12%) and a previous Republican challenger to Farrar, Ryan McConnico (11%) — trail close enough behind to make an impact depending on who they endorse. The Republicans along with the Libertarian in the race, Chris Carmona, tallied up around 3,000 votes and the Democrats around 6,000, strongly favoring Eastman should the voter coalitions hold together.
Watch for get-out-the-vote efforts by the Texas GOP to target this race as, again, field staff has been deployed to the Houston area. Though the Texas House is likely safe for Republicans, a flipped seat in the special election could provide quite a shot-in-the-arm for anyone wondering about GOP prospects in the 2020 primary and general elections, especially in urban districts. This runoff could provide excellent reason for volunteers to contribute to voter recruitment efforts in both parties. All this to say is that it could get interesting, and some outside money would make the race even more colorful.
Advertisement
Advertisement