"'Tis but thy name that is my enemy"
      –"Romeo and Juliet," Act II, Scene I.
Texas Sen. Paul Bettencourt included a rather interesting factoid in his questions to Harris County officials Tuesday: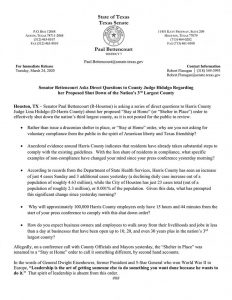 "Allegedly, on a conference call with County Officials and Mayors yesterday, the 'Shelter in Place' was renamed to a 'Stay at Home' order to call it something different …"
Far be it from The Hayride to pass along hearsay, but plain reality confirms this PR tactic is being used to soften the blow of containment strategies designed to prevent the spread of coronavirus/COVID-19.
Travis and Williamson counties joined Harris County in naming their shelter-in-place order a "Stay Home, Work Safe" ordinance — all quite similar to a Dallas County ordinance dubbed a shelter-in-place order.
The similar ordinances all contain a large number of exceptions for "essential businesses" and infrastructure. See our previous analysis of why this is troublesome.
Many cities have also approved shelter-in-place orders, as have several entire states such as California, Illinois, and New York. Texas Gov. Greg Abbott has not given any indication that he favors a statewide shelter-in-place mandate. During a press conference Tuesday, Abbott said "flexibility" is key to addressing the spread of COVID-19.
From the hip: So who's issuing the playbook cities and counties are apparently using?
The Federalist did some digging into the Silicon Valley working group known as COVID Act Now that seems to be the common source for much of the local government (over?)reaction to coronavirus containment.
COVID Act's model self-admittedly is "designed to drive fast action, not predict the future" — seemingly to protect hospitals (hence "flatten the curve") not so much the population in general. And this is without regard to economic activity or the health consequences of a prolonged recession. And it's a good thing, because their predictions have so far been way off.
The author writes:
Our community leaders, the mayors and the city councils, deserve better than to be swindled by a handful Silicon Valley tech bros. Our governors and state officials deserve better data and analysis than a Democratic activists' model that doesn't adjust for important geographical factors like population density or temperature. Americans and their families deserve better than to be jobless, hopeless, and quarantined because of a single website's inaccurate and hyperbolic hospitalization models.
Back to the original subject of this article: Doing a little Google searching, it appears Oregon Public Broadcasting (of all outlets!) was at least among the first to call out the friendlier phraseology.
"Shelter in place" was the virtually unspoken expression at a news conference Friday evening called by Gov. Kate Brown, Multnomah County Chair Deborah Kafoury and Portland Mayor Ted Wheeler. They announced a "stay home, stay healthy" policy to fight the pandemic. Wheeler said an order was coming Monday.

"The order will be along the lines of 'stay within your house unless absolutely necessary,'" he said, later explaining that the city would not call it "shelter in place" because, technically, that means to stay in place while an immediate crisis or catastrophe passes.
It's refreshing to see some remnant of journalistic integrity questioning local leaders rather than blindly passing on what they're told. Sadly, as The Federalist also noted:
When Dallas County Judge Clay Jenkins announced a shelter-in-place order on Dallas County Sunday, he displayed COVID Act Now graphs with predictive outcomes after three months if certain drastic measures are taken. The NBC Dallas affiliate also embedded the COVID Act Now models in their story on the mandate.
And here in Austin, where this writer is hunkered down, the television news media is barking the orders in first-person. Frankly, it's tiring. Absent in between the orders from our media overlords is any investigation into the claims of COVID Act Now, nor any honest look into the oddities, such as why a disproportionate amount of celebrities and officials have contracted the virus (air travel, perhaps?).
Regardless of where you stand on how to best approach COVID-19 containment, keep an eye out for courageous voices who dare to question to prevailing wisdom behind these shelter-in-place orders (whatever name they go by) that do very little to prevent movement. Keep those brave souls close.
Advertisement
Advertisement