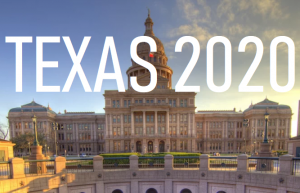 While the national political spotlight is squarely on Amy Coney Barrett as she endures repetitive grilling from the U.S. Senate Judiciary committee, the appointment of Rebeca Huddle to Place 5 on the highest civil court of the Lone Star State sailed through with relative ease.
On Thursday, Gov. Greg Abbott filled a vacancy on the Texas Supreme Court, left by retiring Justice Paul Green, through the 2022 election cycle. Despite some fanfare in the mainstream press of Huddle becoming the fourth female and second Hispanic on the bench, the Texas Democratic Party pointed out that they were looking forward to a fight on the ballot, and possibly flipping the entire all-Republican court in a single election.
That hope now lies in shreds on the floor. "This appointment comes after Justice Paul Green retired on August 31, one week after the deadline for his replacement to be on the ballot in November," a press release from TDP pointed out, calling the move "purposeful." "Had Green retired the week before, five seats for the Texas Supreme Court would have been up for the people of Texas to decide. Texas voters could have made the decision about shaping the future of our justice system here in Texas."
Four seats are up in the general election in Texas, where the first week of early, extended voting had just wrapped up. Four incumbent Republicans — Nathan Hecht (Chief Justice), Jane Bland (Place 6), Jeff Boyd (Place 7), and Brett Busby (Place 8) — are challenged, respectively, by Democrats Amy Clark Meachum, Staci Williams, Gisela Triana, and Kathy Cheng.
Abbott announced his pick in El Paso Thursday at the high school Huddle attended before enrolling at Stanford University and later the University of Texas at Austin.
"I am proud to appoint Rebeca Huddle to the Texas Supreme Court," Abbott said in a press statement. "Rebeca's story truly represents the American dream. She is a first generation American whose tireless work and dedication put her on a path to Stanford and the University of Texas School of Law. Rebeca brings to the court a strong work ethic and sharp legal mind as demonstrated by her extensive and accomplished record both in public service and private practice. Texans depend on a fair and impartial justice system and judges who follow the law as written, and I know that Rebeca will faithfully defend the Constitution and work hard for the people of Texas."
Huddle previously served as a Justice on the First Court of Appeals in Houston from 2011-17 as a Gov. Rick Perry appointee, having won re-election in 2012 after her initial appointment. She has extensive experience in private practice as an attorney at Baker Botts, and helps lead the commercial litigation wing of the company.
From the hip: We can expect the Democrats to ignore the fact that Huddle is a Hispanic female, despite their continual beating of the diversity drum. But they can still breathe a little easier as week 2 of early voting continues:
This appointment is as neutral as it gets for a Republican governor.
Huddle maintains respect among Republican leadership, but she was not selected to ramrod any particular policy or conservative reform through (as far as we can tell) nor poke back at the other party during a tense national election. She represents the continued center-right preference of the Governor for most high-level appointees. She comes from the Texas border from where Abbott has been drawing nominees since he was elected — perhaps as a strategy to build up support in a part of Texas where Republicans do not have a strong presence.
Republicans can breathe a little easier, too. While Democrats can complain about losing the chance to vote on a fifth Texas Supreme Court Justice (read: an instant majority on the nine-seat bench if Democrats win all the seats on this year's ballot), the Democrats also lose an opportunity to beat up on the Republican candidate for Place 5. Instead, they're running four challengers against four incumbents — which isn't nearly as easy to do, especially given the difficulty of pointing to political positions of sitting justices.
Texas Republicans are right to be concerned. In 2018 — basically Trump's mid-term referendum — an energized Democratic base swept the Third Court of Appeals, which is just underneath the Texas Supreme Court on the chain of command. Although Supreme Court Justices Jimmy Blacklock, John Devine, and Jeff Brown hung on by around 4-5 percentage points each, 2018's performance showed a concentrated attack by the left on a court could be a significant threat to the GOP hold on Texas they have enjoyed for nearly three decades.
There nearly came a crack in the pot over the summer: every member of the Texas Supreme Court except for Devine sided with Houston Mayor Sylvester Turner in shutting down the in-person Texas Republican Convention in June over alleged COVID-19 concerns. As a matter of fact, just last week the 2020 state convention finally came to a close as delegates selected their platform planks electronically (more on that in an upcoming Hayride article). But with a newly elected party chairman who may (or may not) have benefitted from the convention chaos, the state party is promoting the four incumbent Justices instead of putting them in the corner.
If you've read this far, this writer apologizes. Nothing changes with this appointment. It does not move the needle on the current election, nor does it represent a shift in the ideological makeup of the court. And because of that, the Democrats lose.
Advertisement
Advertisement