If you don't know who he was, Joshua Williams is the name of the man who killed two people and wounded two others in a Metairie gun store and shooting range over the weekend before store employees killed him.
There was an awful lot of confusion about what actually happened in that store, confusion which has since been greatly clarified.
Here's what actually happened. Williams and his brother Timothy, along with Timothy's two young children, went to the Jefferson Gun Outlet on Saturday, purportedly to purchase ammunition. For some reason, Williams, originally identified as a 27-year-old and then later as 34, thought it would be a good idea to carry a loaded weapon with an extended 31-round magazine into the store.
Store employees informed him that was a breach of the store policy and he needed to unload the weapon or leave it in his car. It's pretty common in gun stores to have such a policy and anyone who's a lawful gun owner is aware of that. Even going to a shooting range you typically carry your magazine detached from your weapon so that you aren't threatening everyone else.
But when the employees told him that, Williams became a homicidal maniac. He began shooting, first firing a shot into the air out of the door of the establishment and then turning back inside and opening up, killing a 59-year old woman who was an innocent customer in the store, and then he killed Noah Fischbach, 47, a store employee, as he made his way into the hallway behind the front of the store.
He continued his rampage into the back parking lot where he was confronted by four more store employees. He shot and wounded two of them before he himself was shot and killed.
No store customers fired a weapon. Seven store employees did. Williams killed or wounded three of them. Williams emptied that magazine and the bullet he had in the chamber.
That's a bit different story than you might have seen over the weekend. And the narrative you certainly heard was that Williams was a deranged Trump supporter.
He might have been a Trump supporter, but he didn't quite fit the profile – or at least, not the media's favored profile – of your usual MAGA gun-toter.
Here's what you got from the local news right after it happened…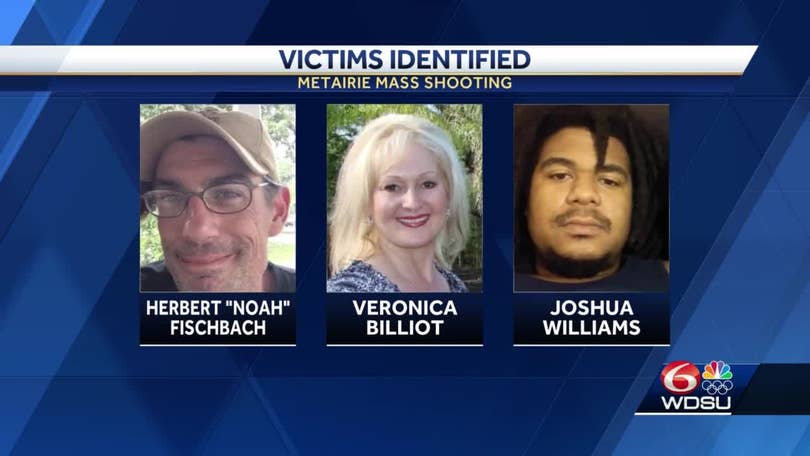 How many people would look at a graphic like that and conclude it must have been Fischbach who flipped out and caused the horror at the Jefferson Gun Outlet?
WDSU later changed that graphic on their website to pull Williams out of it.
There will be an autopsy of Williams' body and it's hardly inconceivable that he's going to turn out to have been on something. Or maybe it's just a mentality which is fueled by some elements of the culture that if you've been oppressed by people who look a certain way since, say, 1619 or so, and those oppressors talk down to you or correct you, you are justified in getting revenge on them.
Williams supposedly had a daughter born just one day after he was shot and killed. What on earth was he doing buying ammunition in a gun store?
Some of the controversy was fueled by this…
It isn't really our purpose to bash a distraught mother who just lost her son, except to say that she's wrong in every single particular and that rant reads an awful lot like the kind of thing which has led to trouble in places like Ferguson, Atlanta and Minneapolis. The difference being there weren't any active-duty law enforcement folks around when Williams was shot.
A woman who identified herself as Mr. Williams's aunt said in a Facebook post on Monday that Mr. Williams had struggled to control his anger. She cited systemic racism and his poor upbringing as contributing factors to his state of mind.

"He was sadly out of control of a situation because of a big time anger control issue," the woman, Janice Hutchinson, wrote. "He was a victim of many social ills that plague too many young Black men who were born and raised in poverty in one of the wealthiest nations in the world."
Ms. Hutchison pulled that comment from her Facebook after an intensely negative, and quite warranted, reaction. To use "systemic racism" as an excuse for the behavior at the Jefferson Gun Outlet on Saturday is wholly unacceptable.
Lopinto probably deserves credit for coming out yesterday with the surveillance video footage to put away any doubt as to what happened at that store, because otherwise it could very easily have descended into a narrative we saw again and again in 2020. The other element to this, obviously, is that there is a certain impetus for the families of people such as Joshua Williams to seek counsel and emerge as plaintiffs in wrongful death lawsuits. It's hard to see, thanks to the video footage that Lopinto didn't keep hidden, how such a case could proceed in this instance.
Which is another way to say that as horrific as this was, had it happened in Orleans Parish instead of Jefferson Parish, there is the potential that an accurate story of what happened might not have been told and things might have spun out of control.
This story should make people sad more than angry. Something happened to Joshua Williams which turned him into an evil, bloodthirsty animal, and two innocent people are dead because of it. If it's possible to address that something, we as a society should do it.
As awful as it might be to say, it's lucky, though, that the Joshua Williams incident wasn't worse, and thanks to Lopinto's management of it there shouldn't be any longer-term ramifications of a "controversy" about the tragic horror of Saturday's gunfight.
Advertisement
Advertisement