Conservatism is inseparable from balancing the budget and paying close attention to the bottom line.
Few state legislators would disagree with that basic tenet of fiscal conservatism: costs must be controlled in order to keep taxes low and government spending from bankrupting their respective states as well as stifling commercial activity.
While the federal government can continue borrowing and printing money seemingly ad nauseum, it's not so easy for states. This financial realism leads politicians of both major parties to watch not only the state budget but to make sure state laws do not drain the revenue at the local level nor negatively affect the business community.
Projections of financial doom and diminished revenue have become favorite tools of liberal interest groups to defeat socially conservative legislation. If they can peel off a few social moderates from the Republican side of the aisle (by claiming a socially conservative bill costs too much in one respect or another, or at one level or another) then it dies.
Enter the gay tourism market: the new darling of convention center and visitors boards and their chamber of commerce allies. It's a $200 billion industry and rising (before COVID-19 restrictions, anyway). Now you have partially taxpayer-funded entities linking arms with not only LGBTQ activist groups but also the traditionally left-leaning entertainment interests that sell convention center tickets and fill public stadium seats.
'Style and form' in South Dakota
As a recent and glaring example: Republican South Dakota Gov. Kristi Noem has come under fire from fellow conservatives over the past week for issuing a "style and form" veto on a bill designed to protect women in sports.
Several commentators suspect it was the influence of the Chambers of Commerce, Big Tech, and collegiate athletics that pulled the plug on the bill and demanded softer language. According to analyst Jon Schweppe:
[Noem] and her team were actively engaging critics of the legislation, which included the South Dakota Chamber of Commerce, the Sioux Falls Chamber of Commerce (arguably more powerful than the state chamber), the South Dakota Board of Regents, the Sioux Falls Sports Authority (presumably representing the interests of the NCAA), left-wing advocacy organizations, and, not surprisingly, Amazon, the censorious Big Tech behemoth, which is planning to bring more than 1,000 jobs to the state by building a fulfillment center in Sioux Falls.

By the end of the second week, it was widely known that Noem had listened to the advice of the bill's critics and was preparing to veto, and sure enough, she dropped a "style and form veto" at 4:30 P.M. on a Friday.
Other conservative commentators such as Katrina Pierson argue that Noem's criticisms are in the best interests of the bill's effectiveness.
The South Dakota situation is not without precedent. Chambers of Commerce, their big business allies and collegiate and professional sports, entertainers, plus their friends with various visitors and convention center entities, have long been a force in state politics — and especially smaller, red states in which social liberals have few other influential alliances.
Blaming it all on mask mandates
That's the scene in a small state. But in the capital city of Texas, and just last month, Austin Convention Enterprises claimed the city would lose four major conventions, and hotels would take a hit of hundreds of thousands in revenue, thanks to Gov. Greg Abbott's relaxation of statewide mask orders.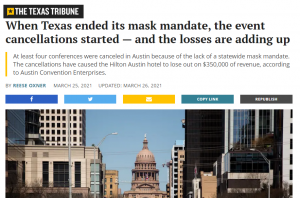 This is despite the fact that Austin is currently undergoing a dangerous experiment in relaxing its homeless camping policy, has lost much of its Live Music Capital swagger during COVID-19 as many world-famous bars and music venues are empty and boarded up, and cut its police budget by a third and eliminate its police academy program for 2021 as crime continues to far exceed modern records. None of those factors entered into the picture: and local mainstream media outlets ran with the narrative as gospel.
(Side note: Austin Convention Enterprises is led by former Austin Councilman Jimmy Flannigan. Regular readers will remember that Flannigan, who claims to have been Austin's first openly homosexual council member, was defeated in December by who is now Austin's only Republican Council member. Flannigan's consolation prize: a 20-hour-a-week job leading the convention entity that pays $140,000 per year plus bennies. We only wish we were kidding.)
That's not the first time the pro-LGBT convention center/big business/sports/entertainment/chambers of commerce coalition has launched an assault on conservative reform efforts in Texas. In 2017, the Texas Legislature considered Senate Bill 6, the Texas Privacy Act, which would have kept biological men out of women's showers, locker rooms, and changing areas in government buildings and public schools. Opponents dubbed it "the bathroom bill." They claimed, via a study cooked up by business interests and under the banner "Texas Welcomes All," that the Lone Star State would lose up to $8.5 billion and around 185,000 jobs. They even got Lady Gaga to sign a letter opposing the bill. Again, we wish we were kidding.
The restroom privacy bill had overwhelming support and plenty of traction in the Texas House and Senate, but was held up by powerful committee chairs who are close to those interests or who are skittish about any prognostication of economic doom.
President Donald Trump signed an executive order during that Texas legislative session rescinding Obama Administration Title IX changes. Trump's order made SB 6 somewhat of a moot point and the bill failed. Nevertheless, the predictions of economic woes did not pan out.
The chamber coalition is back at it again in Austin and Pierre — even strong-arming one of the rising stars of the GOP from passing a popular bill to stop biological men from dominating in women's sports.
And as before, the predictions of financial doom will also prove false.