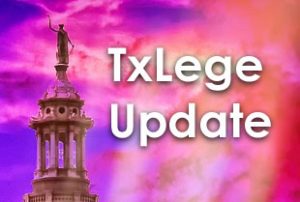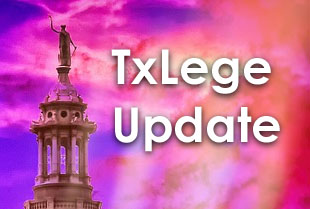 Although the 87th Texas Legislature concluded on Monday, governor's vetoes and signatures of bills and a special session call or two are still on the horizon and may greatly affect the final outcomes of this session.
But there's still one more factor that will guide the final evaluation of the 2021 legislative session: the voters of Texas will decide on eight Constitutional amendments to appear on the 2021 general election ballot.
Approved as House or Senate Joint Resolutions (HJRs or SJRs), they do not require approval of the governor and may not be vetoed. Requiring two-thirds support for passage, they typically have strong bipartisan support.
An amendment concerning religious freedom during a disaster declaration drew the most opposition — from the Democrats. We'll start with it as we run down what voters are likely to see on the November ballot. (These are not final until approved by the Texas Secretary of State's office, and some may be added during a special session, but these are included as an early preview.)
Prohibition on limiting religious services amendment — SJR 27
If approved by voters, this would amend the Texas Constitution to prohibit the state or any government entity from restricting religious services or organizational activities.
Here's why this is being proposed: On March 31, 2020, Gov. Greg Abbott issued an executive order to minimize all social activities in order to control the spread of COVID-19 except for "essential services." The list, as defined by the U.S. Department of Homeland Security, did not include churches, but Abbott and later Atty. Gen. Ken Paxton stepped in and expanded the parameters to include churches, synagogues, mosques, etc. They advised religious services be conducted online or follow Centers for Disease Control guidelines. Many local governments (particularly liberal-controlled larger cities and counties) attempted to keep churches closed and appealed to the courts. Some were successful, leading to an outcry among religious leaders as in some places bars were open to limited capacity and social justice protest given a free pass while church buildings remained empty.
No Republicans opposed the resolution in either chamber, but the Democrats were divided (10 for and 2 against in the Senate and 27 for and 33 against in the House).
Rodeo charitable raffles amendment — HJR 143
This amendment would, if approved by voters, add two professional rodeo bodies to a list of sports organizations allowed to raffle off items for charity.
Specifically, the joint resolution allows for teams and charitable foundations under the auspices of the Professional Rodeo Cowboys Association or the Women's Professional Rodeo Association to conduct raffles. It passed with large margins in both chambers.
Why only the PRCA and the WPRA, and not other sanctioning bodies such as the Texas High School Rodeo Association or the Texas chapter of the Seniors Pro Rodeo Association, is a question voters may wish to ask — though "professional" is the key here: and PRCA and WPRA seem to be the major pro rodeo bodies in the Lone Star State. Specific sports associations are already named in statute including INDYcar, NASCAR, the NFL, NBA, NHL, et al.
Urban blight amendment — HJR 99
The urban blight amendment, if approved by voters, would give power to counties to spend taxpayer dollars on transportation and infrastructure in areas designated as "unproductive, underdeveloped, or blighted."
While this passed by large margins on both sides of the partisan divide and seems altruistic enough, it gets tricky given the U.S. Supreme Court's Kelo v. New London decision in 2005. Kelo gave government the power to condemn and acquire property for economic development purposes. Many cities have taken advantage of this power (perhaps most notoriously, the city of El Paso) to discourage high-crime areas, but this would define that power for Texas counties for the purposes of building transit projects that could attract jobs and working families to a given area.
Local arguments over what "infrastructure" consists of and what is "blight" or just the poor side of town will inevitably take place at county commissioners court meetings across the Lone Star State should this amendment pass.
But there are some restrictions: the amendment would prohibit counties from allocating more than 65% of property tax revenue increases annually to said projects. And counties would be disallowed from using the funds to facilitate toll roads.
Judicial eligibility amendment — SJR 47
This amendment, should it meet the approval of voters, would boost the eligibility requirement certain judges.
Justices of the Texas Supreme Court, Court of Criminal Appeals, or a court of appeals would now be required to have 10 years experience as a Texas-licensed lawyer or judge on a state or county court — up from 10 years general experience as a lawyer or judge.
The amendment would also change the eligibility for a judge of a District Court from four years of experience as a practicing lawyer or judge to eight years.
The amendment also specifies that in addition to being a citizen, a candidate must also be a resident of Texas.
Homestead exemption for surviving spouses of military members killed in the line of duty amendment — SJR 35
A homestead property tax exemption for surviving spouses of members of the military "killed or fatally injured in the line of duty" would be granted in this ballot proposition.
It's a sequel of sorts: In 2013, voters approved Proposition 1 which allowed for various property tax exemptions on the homes of disabled veterans and their surviving spouses.
The 2021 bill was expanded from "killed in action" to "killed in the line of duty."
Tax freeze for surviving spouses of disabled persons amendment — HJR 125
This amendment, if passed by the voters, would freeze the homestead property tax limit for a surviving spouse of a disabled person — but only if the spouse is 55 years of age or older at the time of the death and remains at the homestead.
If that sounds familiar, it should. The legislature and Gov. Abbott passed similar legislation in 2019. This amendment would validate the new law by amending the state constitution and give refunds for the 2020 and 2021 tax years for qualifying spouses.
Essential caregiver amendment — SJR 19
Should the voters of Texas approve this amendment, residents of nursing facilities, assisted living facilities, or state-supported living centers would be given the right to designate an "essential caregiver" of their choice.
An essential caregiver is someone who is not prohibited from accessing one of these homes or care centers — a topic visited frequently during COVID-19 restrictions.
But the amendment would give the legislature the ability to pass guidelines for facilities to enact visitation policies and procedures for these caregivers.
Judicial candidate oversight amendment — HJR 165
If approved by the voters, the 13-member Texas Commission on Judicial Conduct would be given power to review judicial candidates the way it currently does the over 4,000 judges and justices under the oversight of the state of Texas.
_____________
Note: We have much more research to do on these items, and this is far from a comprehensive analysis. We look forward to providing more details coverage on each of these ballot measures in the near future.