Has anybody else received this missive from Louisiana's senior Senator?
September 30, 2013

Dear Constituent:

I am committed to keeping the federal government working without defunding or repealing the Affordable Care Act, which was passed by Congress, signed by the President and upheld by the Supreme Court. I understand that the Affordable Care Act is not perfect, and that is why I have supported sensible changes to the law which help improve it. However, repealing the law is not something I can support. Repeal would add $109 billion to the deficit next year alone, leave close to 30 million fewer people with insurance, and lead to higher costs for those who are covered, according to the Congressional Budget Office.
Landrieu was, in fact, the deciding vote in favor of Obamacare – which has created a 336 percent increase in health insurance premiums for 27-year olds in the state – and hews to the Left's narrative that its corrupt legislative passage and problematic Supreme Court decision upholding it somehow make it good law worth defending. Forget about the fact that to avoid throwing out Obamacare, Chief Justice John Roberts had to rewrite the law as a tax and pretend that a tax originating in the Senate, as Obamacare did, isn't constitutionally infirm. She then concedes Obamacare is a massive tax increase by declaring that to repeal it would cost the federal government $109 billion a year.
Under the status quo, too many hardworking families in Louisiana have had nowhere to turn if they lose the coverage offered by their employer. The Affordable Care Act will guarantee individuals a secure place to access quality, competitively priced health plans if they lose their job or want to start their own business. This will give thousands of Louisianians greater peace of mind. Insurance companies can no longer cancel your coverage when you get sick and need it most because of a simple mistake on your application.
The status quo has been the looming threat of Obamacare, which has made the loss of employer-based coverage a far more likely prospect than ever before. As for the guarantee of a secure place to buy cheap health insurance, this is what that looks like today…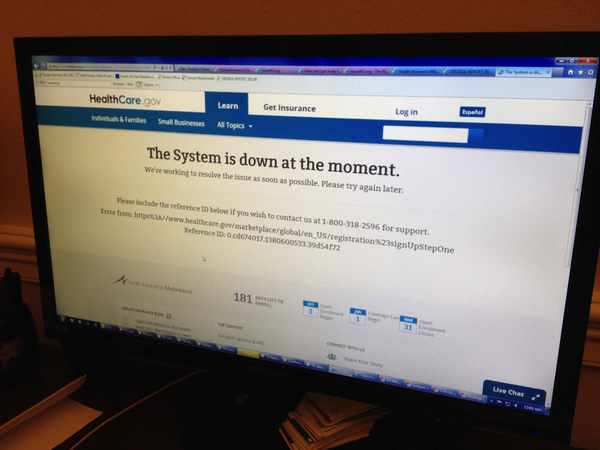 For the first time ever, insurance companies are prevented from excluding coverage due to pre-existing conditions for the more than 266,000 children in Louisiana with these conditions (and for adults, too, starting in 2014). This includes not just children battling cancer, but those suffering diabetes, asthma, sickle-cell anemia and obesity. Additionally, more than 53,000 young adults in Louisiana have been able to remain covered by their parents' insurance policy until their 26th birthday.
Can we ask exactly what part of the definition of "insurance" is met when you force someone to provide "insurance" against something that has already happened? Health insurance covering a "pre-existing condition" is a little like car insurance to cover a wreck you just had. And forcing insurance companies to pay for those wrecks without getting premiums in advance means jacking up the rates on healthy people while violating their rights by forcing them to purchase a product they don't want.
It's also a mark of shame, not a positive feature, that the federal government has infantilized 53,000 twenty-somethings in Louisiana by putting them on their parents' insurance policies instead of incentivizing them to be full adults.
Before reform, cancer patients and individuals suffering from other serious and chronic diseases were often forced to limit or go without treatment because of an insurer's lifetime limit on their coverage. Today, insurers cannot put a limit on the amount of coverage they provide, so Louisiana families can live with the security of knowing that their coverage will be there when they need it most.
$109 billion in new taxes will do that for you.
Another goal of the law is the increase choice and competition to lower costs. To achieve this, the Affordable Care Act establishes new state-based Health Insurance Marketplaces to provide quality choices for those who currently have none. Between October 1, 2013 and March 31, 2014, the new private Health Insurance Marketplaces will open for enrollment, enabling Americans to shop for and compare participating insurance plans. For the first time, millions of Americans who have never had health insurance will be able to get affordable coverage. Using a straightforward, one-stop shop website, Louisianians will be able to use the Marketplace to simultaneously shop for insurance and determine if they qualify for tax credits based on their income. By giving individuals and small businesses access to clear, fair, apples-to-apples comparisons, insurance costs will go down for consumers and small businesses who choose to purchase health insurance in the Marketplace, and skyrocketing costs in the rest of the insurance market will slow as well.
Now Landrieu says it could be March 31 before any of those exchanges work. They certainly don't work today. Did Mary know that before sending out her letter? Does she look dumber if she did?
Again, thank you for sharing your thoughts on this important law. With so many Louisianians counting on the consumer protections and greater choice that the Affordable Care Act provides, it would be irresponsible of me to vote to defund or repeal it. The Affordable Care Act will provide Louisianians access to greater choice of higher quality health insurance, which will be there when you need it, and include protections such as no denials for pre-existing conditions, no lifetime or annual caps on coverage, and preventive care without out-of-pocket costs. That is why I voted for it and will continue to work to improve our health care system.
If you believe Mary Landrieu is appreciative to her constituents for the feedback she's been given on Obamacare, you're not paying attention. She certainly wasn't all that appreciative of the feedback she got from Larry Katz of Dot's Diner, and he wasn't the first restaurateur who got a cold shoulder from Landrieu.
With kindest regards, I am

Sincerely,

Mary Landrieu
United States Senator
It's imperative to put this woman out of the Senate. She's Patty Murray on gumbo and doberge cake.