Yes, this is another St. George post. But the two items we bring you here should make an impact beyond the question of St. George, because the logical failure and rank hypocrisy inherent in both are stroke-inducing.
First, we have this…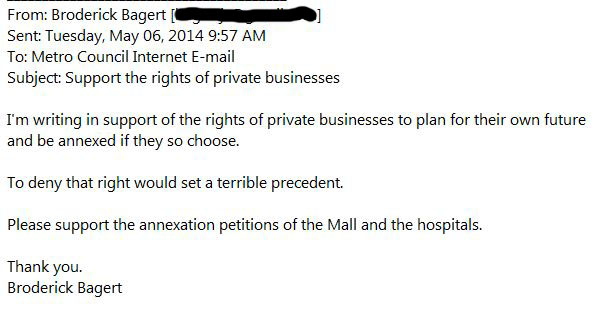 Broderick Bagert runs Together Baton Rouge, the Hard Left Alinskyite cabal which gave us the CATS tax that has robbed the Baton Rouge business community of millions of dollars to fund things like Verizon bills for corrupt political board members.
So we now have Together Baton Rouge, which pimps itself as a defender of direct democracy and the little people, taking a stand on behalf of crass corporations in an effort to thwart the desire of regular folks to vote on their future. Because as we discussed earlier today, the annexation petitions filed by the Mall of Louisiana, Baton Rouge General Hospital and Our Lady of the Lake Hospital could well be found in a court of law as altering the boundaries of the proposed city of St. George and thus invalidating the incorporation petitions.
Bagert and his mob have been attempting to kill St. George ever since that petition began circulating. Today's missive shows exactly how far he'll go in that attempt – this is somebody who's a sworn enemy of corporate America, and yet he'll side with the evil corporatists who own the Mall of Louisiana over the St. George people.
It's worth asking whether Bagert has sold out to the downtown crowd in sending that email to the Metro Council, but then again we've known for a while there isn't much of a question to ask. You can't find much daylight between Together Baton Rouge and the city's ruling elite – as Councilman Ryan Heck noted last night…
The secret is out. The game is exposed. Too many people now realize that this town is run by a small group of elite businessmen who have teamed up with the Poverty Pimps that control votes with an endless supply of 5 dollar bills and even more empty promises. I'm not kidding. Look at the memberships of these entities. Its all the same people. They just create another acronym, here and there, in the guise of a non-profit. As if!
So while we have CATS and dogs sleeping together on the one hand, on the other we have as true a case of blatant hypocrisy as you'll ever see at the state legislature. From an email being circulated by former U.S. Senate candidate and Capital City News publisher Woody Jenkins…
HB 1212 by Rep. Ted James will be voted on later this afternoon. It would TAKE AWAY the right of the people of St. George to vote on whether or not to incorporate as a city. Instead, the vote would be conducted parishwide.

This would change the 100-year-old Lawrason Act and apply not just in EBR but statewide.

This is an undemocratic and tyrannical attempt to deprive the citizens of an unincorporated area the right to decide for themselves whether to form a new city.

Please CALL all representatives you know and ask them to vote NO this afternoon on HB 1212 by Rep. Ted James. Call 225-342-6945.
We thought Sen. Ben Nevers' bill to slap a moratorium on all incorporation efforts was the most obnoxious anti-St. George legislation in this session, but now that Nevers amended it to grandfather in petitions currently underway HB 1212 gets that title. James, whose atrocious performance as a state legislator began by demonstrating ignorance of Louisiana's economic policies on camera at the 2012 Democrat convention and continued into race-baiting the Trayvon Martin case, while playing the race card at those who criticized his demagoguery, and more recently attempting to run low-skilled Louisianans out of the workforce, is going out of his way to carry water for his political boss Kip Holden with this one.
James is saying that the incorporation of St. George would affect people who live in other areas of East Baton Rouge Parish, so those people should have a say in St. George. Which is completely ludicrous on its face – people in East Baton Rouge Parish are affected when citizens with high income or wealth pick up and leave for Ascension or Livingston Parishes; should they get to vote on whether those people have the  right to leave? – but even more ludicrous in light of the CATS tax election last year.
Remember that the CATS tax came as the result of an election that was not parishwide, but instead was limited to a special taxing district drawn for the specific purpose of getting the maximum pro-tax vote possible. The area of what would be St. George was specifically excluded from that tax election because had St. George been included the tax would have failed.
So now, the same people who wanted to draw up that taxing district say you can't have an incorporation election unless it's parishwide?
There is no shame among these villains. None.