We're watching the Louisiana Senate today, as the Revenue & Fiscal Affairs Committee was scheduled to meet when the full body adjourned from the floor.
Rev & Fisc is scheduled to hear HB 27, the House's sales tax bill which was offered as a compromise with Gov. John Bel Edwards to essentially meet him half way with respect to his demands for $650 million in tax increases. Just about everybody knows that when Rev & Fisc gets that bill it will be "juiced up" for the full amount of Edwards' demands, or near to them. Lance Harris, the Alexandria Republican who chairs the House Republican delegation and brought the bill, has said he would park it if it comes back with any more taxes added to it, but nobody really believes the Senate would heed his warning.
So we'll have a post on that when Rev & Fisc is finished with Harris' bill.
But in the meantime the Senate was doing as much damage to the state's economy and public fisc that it could.
J.P. Morrell, the leftist New Orleans Democrat who chairs Rev & Fisc, went to the floor today with SB 10, a bill that would offer a $21 million increase to Louisiana's Earned Income Tax Credit program for poor people. Essentially Morrell's bill would shoot out a $21 million bribe to the state's "working" poor – we use scare quotes to describe "working" because the credit is refundable. That means if you have no tax liability to the state of Louisiana you can still catch a check from the treasury using that tax credit.
Morrell brought the bill for the specific purpose of offsetting the increase in the tax burden for poor people that a sales tax creates. In other words, there is no shared sacrifice inherent in raising taxes to provide services disproportionately used by Louisiana's poor. It's all wealth redistribution for the chairman of the Senate Revenue & Fiscal Affairs Committee in a Senate with 25 Republicans out of 39 members.
Oh, but you think those are actually Republicans?
Well, about that…here was the final score on SB 10…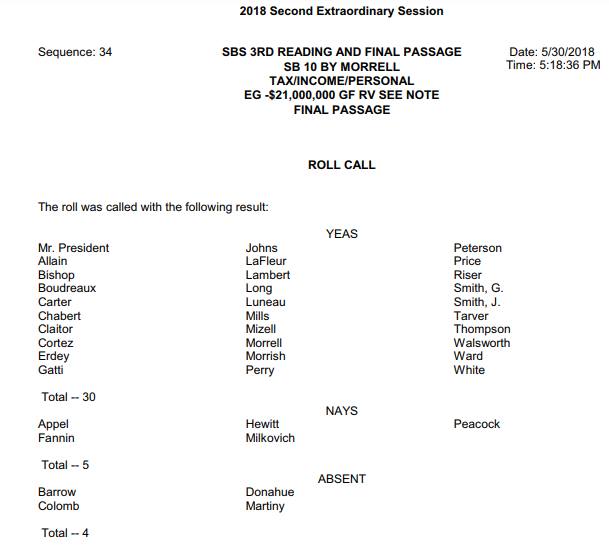 There were all of FIVE votes against a pure giveaway. Norby Chabert, whose complete lack of fitness to serve in a representative body we've addressed multiple times here at the Hayride (with Oscar providing the latest bit a while back when Chabert attempted to beat up a House member with whom he disagreed on a bill), actually went to the floor to commend Morrell for having brought his "best bill yet," and extolling how that $21 million of free government swag would help some of his constituents by Schlitz and cock-a-hos, which we take it are bait for fish. Or something.
Norby Chabert's district went 76 percent for Donald Trump and 81 percent for John Kennedy, whose opponent Foster Campbell is famous for spouting socialist inanities exactly like the ones Chabert was bleating from the microphone today. The district also went 59 percent for David Vitter and 62 percent for Bill Cassidy. And its representative hammered away ad nauseam in favor of making the state's fiscal problems worse by giving money away to the poor.
And won a 30-5 vote. In a body with 25 supposed Republicans in it.
But the Senate wasn't finished. After it was done with the Morrell-Chabert spectacle it then took up SB 6, a bill by Alexandria Democrat Jay Luneau which would knock out $23 million in tax credits given through the Enterprise Zone, Quality Jobs, and Competitive Project Payroll Incentive programs. In other words, a $23 million tax increase on business amid a state economy which has shrunk the past two years.
And that passed the Senate with 20 votes.
So that's your "Republican" Senate.
And that's why Louisiana is the Cleveland Browns of state governments, and why there is little hope of improvement in the near term.
Advertisement
Advertisement