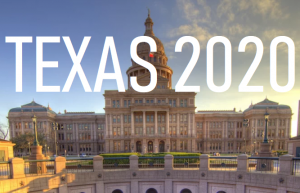 A veteran observer of the ins-and-outs of life under the pink dome asks the multi-million-dollar question:
With a damaged Texas House Speaker — and, thus, no centralized campaign to re-elect incumbents — are Republican chances of holding on to the House in 2020 greatly diminished?
Harvey Kronberg, publisher of the Capitol political journal Quorum Report, points out that Gov. Greg Abbott has issued near-daily endorsements of House members is nothing out-of-the-ordinary, but provides a central rallying point where one is missing. Yet support for fundraising, polling, getting-out-the-vote, messaging, "and a sage hand at wheel they trust" are roles also to be filled where a Speaker-led organization is virtually absent.
"The endorsements are fairly boilerplate but may prove to be useful in discouraging expensive primary challenges and in future mailers," Kronberg said. "Is there a new Gubernatorial–House Republican team effort building now that Speaker Dennis Bonnen appears to have been sidelined? The money guys know that a political director for the House Republican effort is desperately needed, but there are no likely candidates. Complicating matters more, the power of the political director flows directly from the Speaker and that is a muddy imperative."
His further thoughts may be read behind the paywall here.
Much has to be done between now (filing period has just started in Texas) and the March 2020 Primary. House Republicans are already behind the bubble.
On the Governor's end of things, Abbott's chief strategist met with a coalition of major fundraisers in Austin last week, according to the Dallas Morning News. They identified 17 Democratic districts they are interested in flipping.  They're active.
The Republican Party of Texas has its own Victory and Voter Engagement operations in high gear, and that may fill in some of the gap.
Meanwhile, the Speaker's PAC still has $3 million in the kitty, and how much of that money will be in play this cycle remains to be seen, or whether the Governor's campaign and/or the Texas GOP will serve as an agent in distributing the money.
From the hip: With Kronberg's warnings well-considered, we can expect the Governor's office to fill a communications role left by the Speaker — air support, so to speak. But it will also take some hefty ground support as well to enforce the intra-party discipline it takes to keep rival factions from fighting, as well as the things Kronberg wisely noted. Abbott has the war chest, the political ecumenism, the field operation, and the popularity to provide what is necessary during this break in the usual chain-of-command leading up to a primary.
The question remains will it be enough to make up for the lack of a Speaker as a central fundraising figure? We think so, and here are a few scattered thoughts to consider as we watch how this all pans out:
1. The Speaker's traditional role as the "glue" for legislative re-election campaigns may be overrated, as a Speaker is rarely a widely popular choice. Cases in point: Speaker Joe Straus had difficulty earning the favor of movement conservatives, Speaker Tom Craddick had his enemies, etc. We doubt Speaker Bonnen could have filled in a Tom Landry-like role here had his reputation remained intact — at best he'd have been a Jerry Jones, which brings up the second thought:
2. The Speaker traditionally provides a central focus-point for the money crowd, so they know that their donations are going to the political machine that can actually get things done. Remember that the Texas legislative system is a post-Reconstruction invention designed to prevent bills from passing — and thus the Speaker has sweeping powers over which bills reach the floor. Many experienced donors are aware of this and will not throw their money indiscriminately at various causes, no matter how noble or principled. They're not as interested in who the Speaker is — just that he's the Speaker.
3. Campaigns are becoming increasingly decentralized. As consultant firms are becoming cottage industries and voter technology and data more easily accessible via smartphone apps, it is becoming more possible for a campaign to function independently of a Speaker's re-election campaign, a state party Victory effort, etc. The big money will find a way to trickle out to the campaigns one way or the other, but it will take the campaigns doing everything they can to build confidence with them (something a centralized Speaker-led campaign helps with tremendously).
4. When local voters are ready to "throw the bums out," centralized campaign cash flowing to the incumbents may allay that populist urge and give the incumbents a fundraising advantage and the support of statewide political luminaries. But it may not be best for representation. If there is any break in the usual defend-all-incumbents-at-all-costs strategy then this may be a rare moment in then sun for lesser-funded and long-shot candidates in either party to rise up and take their seats. It's common knowledge by now that the Speaker was not interested in defending all incumbents (as made famous by the Sullivan recording). And with Bonnen and one of his across-the-aisle lieutenants and chairmen Rep. Poncho Nevarez on the way out, another post-Straus regime change looms on the horizon. A fresh infusion of freshmen may change things even further. All this to say that the lack of a Speaker-led fundraising effort may actually help conservative Republicans.
Speaker Bonnen would not have been by any means a Tom Landry figure leading the Cowboys to victory, but someone has to rally the players. A gubernatorial-TexasGOP-House scenario is the best coaching available this late in the season.