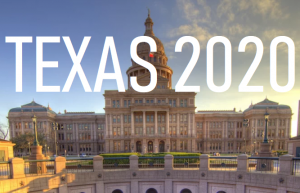 Six bucks may have cost a Republican-held Houston-area Texas House District one of its strongest primary candidates.
Harris County Republican Chairman Paul Simpson declared in a letter to Harris County Department of Education Trustee Josh Flynn that he is ineligible to appear on the ballot as a candidate for Texas House of Representatives District 138.
Simpson, in a letter, wrote that because Flynn received $6 per meeting to sit on Houston's unified county school board, that technically counts as a "lucrative" office — hence, disqualifying Flynn due to the sequence of his filings and resignation from the board.
Flynn is the son of longtime East Texas GOP Rep. Dan Flynn, the socially conservative but generally centrist Chairman of the House Defense and Veterans Affairs committee.
The current occupant of HD 138, longtime Rep. Dwayne Bohac, won re-election by a mere 47 votes in 2018. The district was carried by both Beto O'Rourke (as the poster-child for the 2018 Texas Democratic slate) and Hillary Clinton. As such, the Texas GOP has stationed field staff in the immediate area to bolster Republican chances of keeping it and neighboring jurisdictions in the red category.
Other Republican candidates for Bohac's seat include precinct chair and activist Lacey Hull and "Raging Elephants" broadcaster Apostle Claver Kamau-Imani.
HD 138 is one of at least six House districts held by Republicans who are not seeking re-election (HD 10 held by Rep. John Wray, HD 26 held by Rick Miller, HD 28 held by Rep. John Zerwas, HD 60 held by Mike Lang, HD 92 held by Jonathan Stickland, and HD 138 held by Bohac).
From the hip: It's times like these when we see the statutory power a county party chairman truly has. That said, the powers of a political party are greatly confined by the judiciary, and we can expect a court to be the final voice on this matter soon. Stay tuned.
So what happens if Flynn is found to be ineligible and not removed from the primary ballot? Under Texas Election law (and assuming we're reading it correctly), if Flynn carries enough votes to win the primary or make the runoff, but is still considered disqualified, the Harris County Republican Executive Committee (e.g. the precinct chairmen) get to nominate a replacement. If a disqualified Flynn loses the primary outright, he is dropped from the final tally and the results are then re-calculated for the remaining candidates.
Advertisement
Advertisement