One of two coalitions opposing the recent relaxing of the city of Austin's homeless camping ordinance unveiled a petition drive on Monday to allow voters to decide whether to roll back the unpopular change in policy.
Save Austin Now is a bipartisan effort headed by at least one Democrat and members of the Austin Police union, among others. But that did not stop the usually pro-union local Democratic party, which urged its members to not sign it, noting that the co-founder is Matt Mackowiak, Chairman of the Travis County GOP.
"DO NOT SIGN THE PETITION," the Travis County Democratic Party's Facebook Page urgently said Monday evening. "Save Austin Now, a front group for the Travis County Republican Party and the Austin Police Association, announced that they are half way to meeting the signature requirements for putting the re-criminalization of homelessness on the ballot. Petitions don't end homelessness. Jails won't end homelessness …"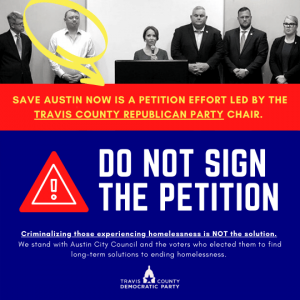 Mackowiak, who leads the nonprofit, nonpartisan effort with Democratic Party voter Cleo Petricek, said at a press conference Monday morning the petition would restore the law as it was before June when the city relaxed laws on sleeping on public property. The petition would restrict camping in a large swath of downtown and ban panhandling from 7 p.m. to 7 a.m.
To get an item on the next local election ballot would require signatures from 5 percent or 20,000 of Austin's voters, whichever is less, by July.
The petition may be signed here.
The policy reversal at first brought accolades from homeless care providers and social justice-types, who have long stated such policies criminalized homelessness and led people into a cycle of incarceration and poverty, according to the Austin American-Statesman. Business owners, neighbors who live near the city's urban core, police union officials, and a strange-bedfellow coalition of other interests have associated the new camping ordinance a rise in criminal activity and public health and safety hazards.
"We believe that [reversal] would take us back to essentially where we were in June, with some slight improvements to city policy, and we think there will be overwhelming public support for these provisions if we go back to this kind of system," Mackowiak said at the conference.
Save Austin Now's petition has as of the current time 88,000 signatures via Change.org. It's the hopes of organizers that the Austin residents who signed the Change.org petition will sign the ballot petition.
Also working to get items on the ballot is Take Back Austin, supporting a recall of the all-liberal Austin City Council and Mayor. Each petition must receive 80,000 valid signatures — a much higher hurdle to clear. Recently, activists have taken to highway overpasses with large banners to drum up support to recall Mayor Steve Adler.
From the hip: The news cycle this week is (again) obsessed with the possibility of Texas turning blue, pointing to a recent poll and several Bernie Sanders rallies as "proof." What is not being covered is that local Democrats are ready to devour one another over issues like these, which stem from the strategic overreach of liberal city councils.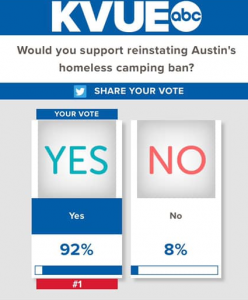 Mayor Adler is apparently hoping the greater visibility of Austin's homelessness situation will spur voters to approve funding for additional homeless shelters and social services throughout the city. What is missing from his calculation is that Republicans and Democrats alike are deeply concerned with the temporal effects of his strategy. A recent television news flash poll found well over 90 percent of respondents supportive or reinstating the homeless camping ban as it was before June 2019 (see image to right). And they're taking action regardless of what their party bosses or liberal ideologues may or may not say about it.
This type of unhinged over-extension of progressive policy is being repeated in cities across the U.S., accelerated by opposition to the Trump Administration and fears over state legislatures turning increasingly conservative. Voters on the local level are beginning to wake up to the political extremism in place and find common ground with those across the aisle offering practical, in-the-now solutions. Expect more of this synthesis in the near future — and perhaps even some November election surprises.
Advertisement
Advertisement