We've now had two posts here at The Hayride on this fraudulent piece about voter registration losses from an LSU journalism student which made its way around among newspapers and TV station websites throughout Louisiana, and while there were intelligent points made in refuting the LSU Manship News Service's fake-news narrative, both pieces are nonetheless wrong.
Which isn't an attack on Louis Gurvich or Jeff Sadow, so you'll know. They're simply looking too closely at the issue Sarah Procopio raised, and while both pieces recognized the Fake-News  character of her "reporting," they didn't give her enough credit for, wittingly or otherwise, completely hiding what's really going on when she pegged the Jan. 6 Capitol riot as the reason for there being 7,810 less registered Republicans in Louisiana on April 1 than on Jan. 1.
The identification of the capitol riot as the supposed cause of this decline should have been a dead giveaway that this was a propaganda piece. It was obviously a false narrative and clearly one which came from somewhere. If nothing else, it's worth understanding that LSU Manship News Service doesn't pump student-generated content to supposedly-legitimate media organizations without adult supervision.
And the people who run LSU Manship News Service are activist Democrats who are very much in tune with the political fixers who run that party both at the state and national level.
So any time there is a political article coming out of the LSU Manship News Service, particularly one carrying the byline of a Truman Scholar who's known on LSU's campus as a big-time left-wing activist, you can safely assume the narrative being peddled in that article is one some Democrat in power wants peddled.
And in this case it's not one narrative at work, but two. Or more to the point, the promotion of a false narrative and the suppression of a true one.
The false narrative, which Gurvich and Sadow both identified, is that somehow the Jan. 6 capitol riot turned off so many Republican voters than 7,810 of them quit the party. That this was accepted by Gannett newspapers and TV stations in Louisiana when it was clearly ridiculous says a lot about the credibility of our corporate legacy media – it's just as awful here as it is elsewhere. CBS News' 60 Minutes fact-free hit piece on Florida governor Ron DeSantis was a great example of that, while the Baton Rouge Advocate's crusade against Jeff Landry on the basis of this sexual harassment allegation against one of his underlings, which we'll get into on Monday, is another.
Nobody believes the "Jan. 6 riot reaction" lie. We don't need to get into any of that. The real story is the narrative Procopio's piece was written to suppress.
Fact: on Jan. 1 of this year, there were 3,104,542 registered voters in Louisiana. Of those:
1,254,915 were Democrats (40.42 percent of the electorate);
1,030,291 were Republicans (33.19 percent); and
819,336 were independents (26.39 percent).
Fact: on April 1, there were 3,093,405 registered voters in the state. Of those:
1,246,573 were Democrats (40.30 percent of the electorate);
1,022,481 were Republicans (33.05 percent); and
824,351 were independents (26.65 percent).
Democrats lost 8,432 voters. Republicans lost 7,810. There were 5,015 more independents at the end of the first quarter.
So where did the 11,227 voters go who dropped off from D and R but didn't choose I?
Remember that the rolls aren't static. People turn 18 and register to vote, and people come off the voter rolls for various reasons.
The most obvious of those reasons is that they'd be scrubbed off the rolls because they've died. But that's not at work here. We talked to the Secretary of State's office and because there are federal elections going on at present – when Luke Letlow died in December it was known there would be an election upcoming, and then when Cedric Richmond left Congress to join the Biden administration there was another, and that one has a runoff later this month – there hasn't been a purge of the rolls this year.
So those 11,227 voters, and it's actually more people than that because this is a net figure which comes after new registrants are factored in, came off the rolls because they actively took themselves off. Not counting, of course, the few hundred people who came off the rolls because they were convicted of felonies, a number we couldn't pin down without some exhaustive research.
Now, it's easier today for a voter to de-register than it used to be. You can go online at the Secretary of State's website and take yourself off the voter rolls.
But why would you do that? It's one thing to get disgusted with your party and change to independent. But nobody just takes himself or herself off the voter rolls.
Unless it's because he or she is registering to be a voter somewhere else.
Which is what they're hiding from you.
Louisiana's electorate shrank by 11,227 voters from Jan. 1 to April 1, before any dead people came off the rolls, and for a very significant reason, which is that people are fleeing from this state and its horrible economy and worse public policy at blinding speed.
Don't forget that Louisiana posted the 4th-worst GDP figure in America for 2020. The state's economy shrunk by 5.5 percent, which sticks out like a sore thumb among its southern neighbors. Everybody took a hit, but none of them were close to our losses.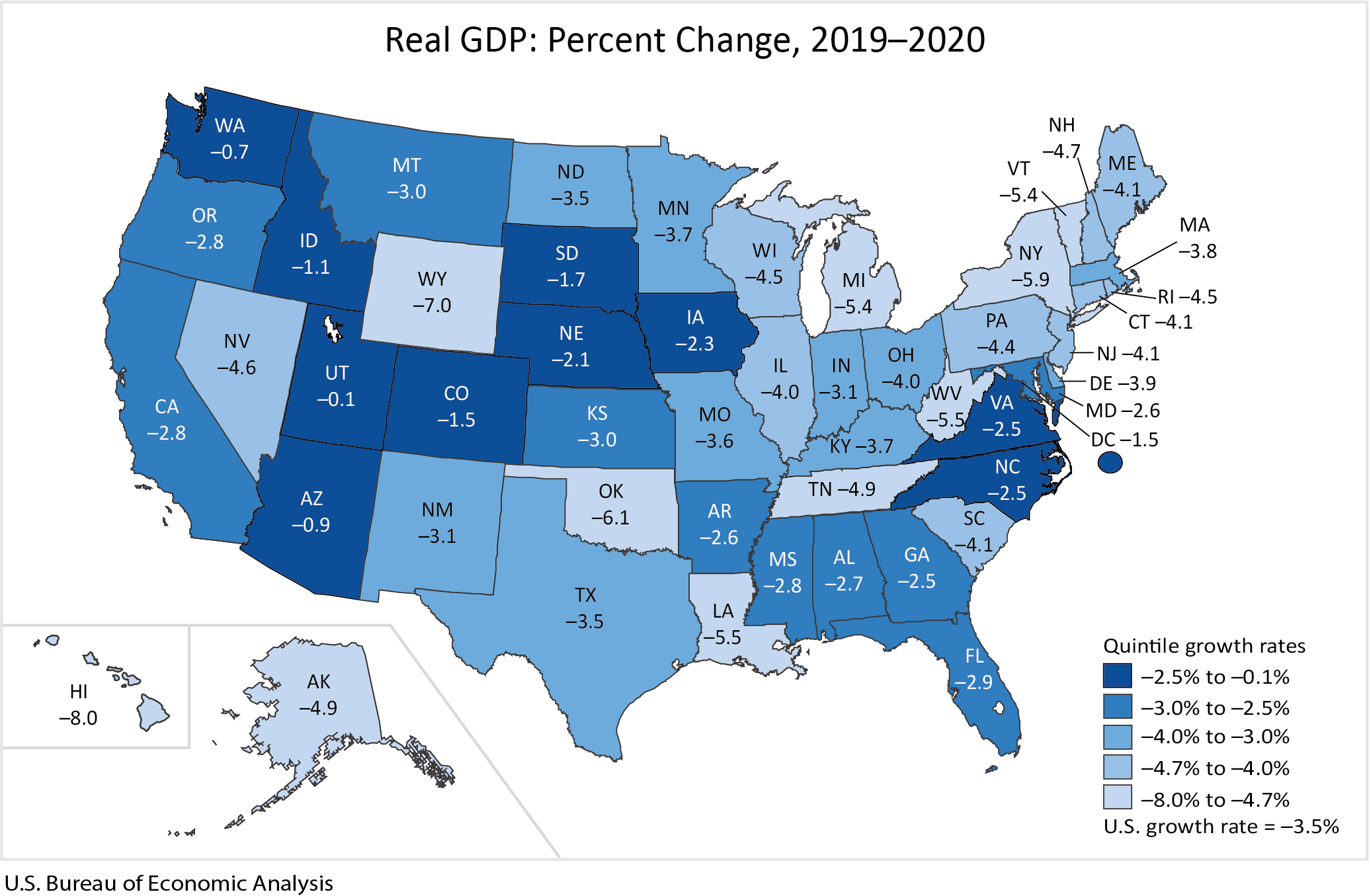 Do you think anything has changed in the 1st quarter of this year?
Remember, it doesn't matter if Louisiana's economy has stopped shrinking. If it isn't growing faster than that of the neighbors, people will leave for better economic prospects elsewhere. And that will show up in the size of the voter rolls.
We do have a real-time measure of which way the migration is going. It's called the U-Haul website. That site has a calculator which gives you rates for U-Haul trucks, and those rates are a direct reflection of the relative movement of people.
And for several years now the U-Haul rates have been telling a pretty dismal tale about Louisiana's outmigration problem during John Bel Edwards' time as governor.
How do they look right now? Well, let's go and rent a 10-foot U-Haul truck in New Orleans to drop off in Houston, and then let's do the reverse. We'll use April 15 as our move date.
From New Orleans to Houston U-Haul will charge $488. From Houston to New Orleans, it's $251. Almost half the cost.
New Orleans to Dallas? $653. It's $336 the other way.
You can plug in any in-state-vs-out-of-state geographies you want and it's going to be much the same story. We are hemorrhaging people and the rates show it. The state lost population to the tune of 13,000 people in 2020. Louisiana had one of the worst census response rates in the country last year; isn't it obvious that the Texodus, our name for the outmigration the plurality of which ends on the other side of the Sabine River, was responsible for that? People don't answer the census when they've moved.
Now – if the truth about that was known, coming into a legislative session which starts next week, you'd have some momentum for Louisiana to do something about its failing economy. You'd see pressure on John Bel Edwards to support some real tax reform, and you'd see some fire among the Republican-majority legislators in support of efforts to fix the state government responsible for running off so many of our citizens.
Instead, all over the state they're running a narrative that Louisianans are turning on the GOP because of the wing-nuts who stormed the Capitol, and therefore the GOP leges need to tread softly in this session.
Frankly, you have to give these people credit for their chutzpah. But you're being lied to, and shamelessly so, by people who are measurably awful at running things.
It ought to fire you up. And the fact that they've turned LSU against you to do this ought to piss you off even more.