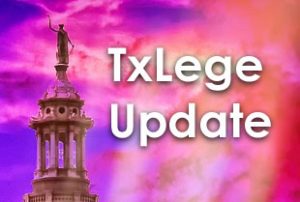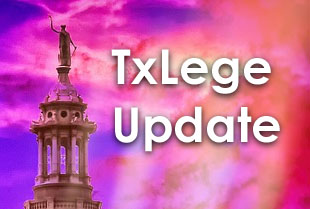 Texas Gov. Greg Abbott made it official this morning — special session No. 1 will convene Thursday morning.
On the 11-item call there are the expected items — a critical race theory ban in schools, bail bond reform, a prohibition on biological boys performing in girls sports in public schools, and election reform — which were already hinted at or promised by Abbott.
But there are several unexpected items which contribute to a longer laundry list. All together, they could take up the entire, maximum 30 days allowed for special sessions (although each item is based on a prior effort from this spring's regular session).
A second special session, expected to take place this fall, will concern redistricting (due to a delay in Census data) and how to distribute federal COVID-19 relief funds.
"The 87th Legislative Session was a monumental success for the people of Texas, but we have unfinished business to ensure that Texas remains the most exceptional state in America," Abbott said, in a press release this morning. "Two of my emergency items, along with other important legislation, did not make it to my desk during the regular session, and we have a responsibility to finish the job on behalf of all Texans."
We take a look at the call, starting with the expected items, verbatim from the press release and with our commentary in italics:
BAIL REFORM: Legislation reforming the bail system in Texas to protect the public from accused criminals who may be released on bail. Abbott made reforming the bail system in Texas an emergency item in the longer session, but it's a tricky matter that failed to gain traction. Abbott's overall goal is to make it harder for those arrested to bond out if they've been arrested for another offense while out on bail.
ELECTION INTEGRITY: Legislation strengthening the integrity of elections in Texas. Much has been said about this already, but this item did not say much in the call proclamation itself. The Governor may be willing to negotiate some items from the regular session's omnibus election reform bill — especially as Democrats, by walking out of the House in protest to break quorum, may threaten to do so again (see below for an item related to legislative pay).
SOCIAL MEDIA CENSORSHIP: Legislation safeguarding the freedom of speech by protecting social-media users from being censored by social-media companies based on the user's expressed viewpoints, including by providing a legal remedy for those wrongfully excluded from a platform. Essentially, last session's proposals were largely legal remedies for those who feel they were wronged on an online forum. As we know, the social media giants have adopted far-left "anti-misinformation" campaigns that have greatly curtailed conservative speech on the platforms.
YOUTH SPORTS: Legislation identical to Senate Bill 29 as passed by the Texas Senate in the 87th Legislature, Regular Session, disallowing a student from competing in University Interscholastic League athletic competitions designated for the sex opposite to the student's sex at birth. In other words, no more biological boys dominating girls sports in public schools — now including private schools that opt to compete with UIL. This bill did not gain enough traction in the Texas House even after a strong start there.
CRITICAL RACE THEORY: Legislation similar to House Bill 3979 concerning critical race theory as originally passed by the Texas Senate in the 87th Legislature, Regular Session. "Similar," though not "identical" as with SB 29 mentioned above — again, with some wiggle room. Some conservative groups have opined that due to Democrat amendments during regular session, HB 3979 would have had an opposite effect — mandating CRT be taught whereas before it could be completely side-stepped.
And the (relatively) unexpected items:
BORDER SECURITY: Legislation providing funding to support law-enforcement agencies, counties, and other strategies as part of Texas' comprehensive border security plan. Abbott has offered to help fund the border wall to the tune of a $250 million "down payment" and this may be related to that pledge.
ARTICLE X FUNDING: Legislation providing appropriations to the Legislature and legislative agencies in Article X of the General Appropriations Act. Abbott recently line-item vetoed $410 million in funds for roughly 2,100 legislative workers as retribution for the House Democrats' walk out toward the end of session, dooming several Republican and governor's priority bills. No doubt this is related.
FAMILY VIOLENCE PREVENTION: Legislation similar to Senate Bill 1109 from the 87th Legislature, Regular Session, requiring schools to provide appropriate education to middle- and high-school students about dating violence, domestic violence, and child abuse, but that recognizes the right of parents to opt their children out of the instruction. SB 1109 was vetoed by the Governor on June 18, so there are apparently a few things the Governor wants changed in this bipartisan bill.
ABORTION-INDUCING DRUGS: Legislation similar to Senate Bill 394 from the 87th Legislature, Regular Session, which prohibits people from providing abortion-inducing drugs by mail or delivery service, strengthens the laws applicable to the reporting of abortions and abortion complications, and ensures that no abortion-inducing drugs are provided unless there is voluntary and informed consent. SB 394 is another bill that fizzled out during the long session. It died in House Calendars.
THIRTEENTH CHECK: Legislation similar to House Bill 3507 from the 87th Legislature, Regular Session, relating to a "thirteenth check" or one-time supplemental payment of benefits under the Teacher Retirement System of Texas. HB 3507 passed the House Pensions committee in late April but that was about it. No word on any Senate companion bill or similar legislation having moved.
APPROPRIATIONS: Legislation providing appropriations from additional available general revenue for the following purposes: property-tax relief; enhanced protection for the safety of children in Texas' foster-care system by attracting and retaining private providers for the system; and; to better safeguard the state from potential cybersecurity threats. By filing this under Appropriations and not separate items, it may be that the executive branch has some authority over these items but lacks the funding to implement them.
The Governor has the power to add items to the call as the session continues. A helpful FAQ on special sessions may be read here.
Abbott is opposed in the 2022 Republican primary by the following challengers: vidcaster Chad Prather, former Sen. Don Huffines, and outgoing Texas GOP Chairman Allen West. The opponents are already busy calling many of these items campaign talking points. Time will reveal the order or priorities, here. Given the longer history on these 11 items we expect the Governor's call is sincere.