At least one Syrian refugee that was in the process of resettling in the Baton Rouge area has already gone missing, according to a report by WBRZ.
Here's what WBRZ posted to Facebook today: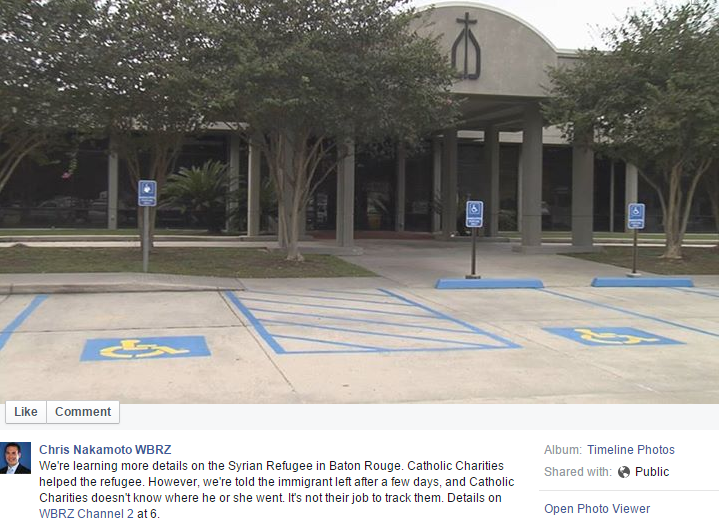 As reported earlier by the Hayride, there are another 7 Syrian refugees in Kenner and 6 more in the New Orleans area.
The news may seem alarming that neither state government nor the federal government track newly-arrived refugees who have just entered the country, but it is actually not uncommon at all.
Refugees are first flown to the United States, according to the French news wire Agence France-Presse, with the State Department paying the International Organization for Migration (IOM) for the airfare.
Then, once refugees arrive in the country, they can be dispersed across a number of US cities (which includes Baton Rouge, Lafayette and Metairie), where they are aided within the first 30 to 90 days in settling and finding employment in the area.
After approximately 90 days, refugees are no longer eligible for the State Department-funded support that they were receiving through migrant and refugee services. However, they are able to join support programs through the Department of Health and Human Services.
Additionally, it is unclear how much the screening process for the 10,000 Syrian refugees costs American taxpayers. The State Department, though, has spent $1.1 billion resettling people from around the world in the country last year. That's about $16,000 per person.
Despite claims that Catholic Charities is greatly involved in the refugee process, they are not. Catholic Charities merely helps migrants resettle. They are not responsible for tracking the individuals.
In the Louisiana gubernatorial race, the contrast between Sen. David Vitter (R-LA) and State Rep. John Bel Edwards (D-Amite) seem stark when it comes to Syrians being allowed in the state.
Vitter said that the migration of Syrians into the state must "stop immediately." Meanwhile, Edwards originally stated via Facebook that he would work with the Obama administration to "accommodate" the refugees.
Edwards then back-tracked on the statement and said he would want the influx of refugees into the state paused until the vetting process is made more rigorous.
However, as the Hayride's special report revealed today, the State Department's 'screening process' for refugees is not rigorous at all, nor can it be trusted to weed out potential Islamic terrorists.
Hence, this is why the Boston Bombers, Somali Muslim refugees who converted to jihad, a Rwandan genocide terrorist and the Portland Christmas Tree Bomber were all allowed into the country as "political refugees."
Advertisement
Advertisement