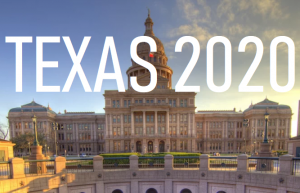 In one of three special Texas House runoff races this month, dueling campaign ads are burning up the Houston-area airwaves with a lot of flame but not much fuel.
True to attack ad style with black-and-white, shadowy images and slow motion footage, Florida-based Forward Majority PAC aired an ad on behalf of Democrat Eliz Markowitz's campaign accusing Republican runoff contender Gary Gates of some of the some familiar allegations that have come up every time he has run for an office such as other Texas legislative seats and a spot on the Railroad Commission.
Are you sitting down? According to the ad, Gates used corporal punishment on his children and forced them to take "vomit-inducing medicine," which once alerted Child Protective services.
Gates and Markowitz are the top two vote-getters from the November election for HD 28, which covers a portion of Fort Bend County near Houston, including parts of mega-suburbs Katy and Sugar Land.
The Gates campaign replied, not with rolled eyes, but with an ad of their own, noting the accusers in the now-20-year-old case paid a $100,000 settlement..
According to Markowitz' ad, the Houston Press reported in 2000 that Gates spent $150,000 defending the now-decades-old case.
From the hip: Democrats have high hopes that they can flip the previously reliable-Republican HD 28 in the Jan. 28 Runoff election, which may explain the outside PAC's interest.
As we reported, there is no path forward for Democrats unless they win the White House and state legislative seats. Texas has since become a battleground, and no district is safe from being targeted by national Democrats or liberal-progressive interest groups.
We have also previously reported on the vulnerability of Fort Bend County, which has seen its share of election-related flare-ups over the past year.
The accusations addressed by the ads may seem minor, but if they can shave off/preserve even a small amount of voters it could make all the difference in HD 28. This is especially true in a lesser-known runoff being eclipsed by primary and presidential politics. Consider that in Dallas, in the more predictable House District 100, voters in November separated the top two candidates by a handful of votes — five, last we checked. HD 100 voters will be casting their ballots between Democrats James Armstrong III and Lorraine Birabil on Jan. 28.
The other Runoff race, HD 148, is the final phase of a 15-candidate free-for-all to replace retiring Democratic Rep. Jessica Farrar. Democrat Anna Eastman faces Ron Paul-endorsed Republican Luis La Rotta.
With HD 100 and probably HD 148 in the bag for Democrats, how HD 28 turns out at the end of the month will provide a snapshot of how Democratic March Primary contenders may perform in see-saw districts. Expect Democrats to scratch the bare ground for even a small amount of voters and for the attacks to become even more seemingly petty.