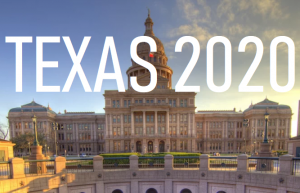 On primary voter registration deadline day, a massive Republican voter registration effort in Texas has not only raised an additional $2.3 million since our last report, but has hired 300 people.
Engage Texas, according to a report in the Texas Tribune, now maintains a war chest of $8 million (down from $9 million in our last report) and has spent $3.5 million during the latest state-required half-year fundraising report period.
The effort, backed by Republican mega-donors such as Dick Weekley, a Houston-based real estate developer, and Ross Perot Jr.'s Hillwood Development Co., and is headed by a former Republican National Committee field director. It compliments similar strategies initiated by the Republican Party of Texas and conservative groups like Leadership Institute.
In our last report, roughly $212,000 was spent on legal compliance. Democratic figureheads have asserted that Engage Texas is walking a careful line in its operations — in several cases, operatives were stationed outside DPS offices which are technically public spaces but not often used as such. Engage Texas operatives reportedly screen passers-by to determine how conservative they are on key issues before offering to sign them up to vote. Under Texas Law, Deputy Voter Registrars (those authorized by a county to directly sign up new voters) may target specific groups, but if anyone regardless of party affiliation or ideology asks to register to vote they must be given that opportunity.
Democrats have for years targeted friendly community centers, higher ed campuses, government office plazas, and even church buildings for their voter registration efforts. That has not stopped intense criticism from the left over Engage Texas's strategy.
From the hip: Republicans enjoy a defensible lead in Texas on many fronts, contrary to Democratic narratives that the demographics are changing and the state is ripe to flip.
Voter registration overall is up from 13 million in 2010 to 15.8 million in 2018, but which percentage of those new voters favor Republicans has been a subject of much contention.
The double-digit victory of Gary Gates over Eliz Markowitz in the HD 28 special election runoff was a test case which proved beyond any reasonable doubt that Republicans are adeptly holding the line when it comes to keeping up with voter registration and getting out the vote. Democrat and progressive PACs poured a significant amount of money into the suburban Houston district in hopes that the "urban suburbs" are starting to go Democratic and a blue wave there could funnel more energy and cash into general election races across Texas. That may yet pan out, but in the meantime efforts like Engage Texas are keeping Texas quite competitive for Republican candidates.
Keep in mind that there are nine House seats keeping the lower chamber of the Texas Legislature from switching party majorities. It's a do-able goal for Democrats as much as it is a wake-up call for Republicans to recruit or die.
Advertisement
Advertisement