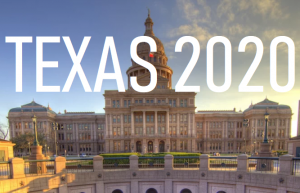 While the Georgia U.S. Senate runoffs are still drawing plenty of attention, in Texas a state Senate runoff on Saturday marked the end of campaign year 2020.
It was a hard-fought, bitter contest between two Republicans in the running for Texas Senate District 30 in North Central Texas, left vacant by Congressman-elect Pat Fallon. Texas House member Drew Springer immediately threw his hat in the ring, followed by embattled salon owner Shelley Luther and four other candidates who did not make the runoff. See our previous coverage here and here.
Several movement conservative orgs lined up behind Luther, who had defied COVID-19 orders in person and in court and criticized Gov. Greg Abbott and Dallas County officials for administrative overreach. Springer, though also conservative by most measures, had more establishment appeal and quickly became the preferred candidate of even certain rural Democratic leaders.
In the end, Springer overcame Luther 56.5-43.6% in a high profile runoff that brought in nearly 58,000 voters. Said Luther in her concession:
Nine months ago, I was just a small business owner with zero political experience. Then Governor Abbott and some Democrats in Dallas put me in jail for opening my salon. Those same politicians spent nearly three million dollars, most of which unfortunately got spent on lies about me in an effort to stop our movement. What they don't know is that it only emboldens me more. I won't back down, and I'm not going anywhere. To the tens of thousands of SD 30 voters who have supported us through this journey, thank you. To Mr. Springer, congratulations. To Texans across the state who are praying for us, know that your prayers have kept us going and will continue to embolden us in this fight. Voters are demanding the conservative results that both I and Drew Springer promised. I hope they are given those results in 2021.
And from Springer:
Honored that the citizens of Senate District 30 have entrusted me with this position. As your next senator, I will continue advancing the conservative priorities of our district like reducing property taxes, securing the border, and standing up for our law enforcement and first responders who keep our communities safe. I look forward to fighting for our students and teachers to ensure every child has the opportunity to succeed whether the path is college or vocational/technical training. I will fight to ensure Texas remains the premier place in the nation to do business, so we can unleash the private sector to create jobs and move us out of this recession. Thank you to everyone who spent time knocking doors, making phone calls, and reaching out to their friends, family, and neighbors to encourage them to vote. Most importantly thank you to my wonderful wife, Lydia, for being so supportive during this campaign.
A special election will be held soon to determine who will run for Springer's soon-to-be-vacant seat. Fellow Cooke County resident, and County Judge Jason Brinkley, announced his intentions to run in Texas House District 68.
From the hip: As a longtime former resident of Cooke County, HD 68, and SD 30, this writer feels that a few unsaid things should be said to movement conservatives on why Luther's campaign fell flat.
To frame this a bit, consider that SD 30 is conservative — very conservative. Springer's House district and county even more so. To give the reader an idea of just how much, Bill Clinton failed to crack even 10% in his bid for re-election in Cooke County — the very year that the county fully flipped from Southern Democrat to Republican (having been solidly Democrat for more than a century before). So it has been that way since the beginning of the Republican resurgence. On election night, Springer (even while running for Senate) beat well-known Democratic college professor Pat Ledbetter 83-17% in the county — at least Dr. Ledbetter outperformed peak Clinton.
SD 30 is only a hair less conservative, spanning 14 counties and population strength being in Denton, Collin, Grayson Parker and Wichita counties. Yet the heart of the district, geographically speaking, is rural. Even the rapidly-growing suburban areas north of Dallas in the southeast corner of the district have cultural memories of a time when tract housing lots were cattle grazing or crop fields.
Which brings up the first point: Luther came in as a hero against her fight against Dallas-style crackdowns on COVID-19 rule violations (her salon is located there, while she herself lives in a small town in eastern Denton County). But most residents are from decidedly less punitive counties and did not identify as much with her struggle. That's not to say they didn't sympathize, but COVID was not a political priority in many quarters of SD 30, especially in places where you can walk into the local Allsup's without a mask, line up for a burrito, and nobody blinks an eye.
Secondly, Springer is perceived as being reasonably conservative and is only a key vote or two away from the left-most member of the Texas Freedom Caucus on certain scorecards, if that tells you anything. Luther, while she may very well be conservative on most issues, has very little background to prove it. Her voting record according to GOP records indicates she may be a "Weak Democrat." While Luther has satisfactory answers to these questions to earn the endorsement of several key conservative orgs, the lack of a paper trail her hurt her. Rural Texas voters tend to favor stability and reliability over political posturing, and will forgive a multitude of sins as long as you're "their guy."
Third: The conservative movement in North Texas is fractured along some unconventional lines. Consider the recent family feud between Angela Paxton and Phillip Huffines for an open state Senate seat as one example. Some of the organizations that backed up Luther had burned many of the power-players in the region before, which is why the entire Republican universe there was not unilaterally aligned behind either Luther or Springer.
Keep in mind that in many locations in SD 30 (e.g. Springer's Cooke County) there is no Democratic presence to speak of, therefore making for two competing coalitions — Republican and not-so-Republican. Determining that difference is not an exact science. Springer versus Luther may have widened that rift a bit.
Finally, Springer had the misfortune of representing the largest geographic district in the Texas House — a swath of cattle country that reaches nearly to Northeast Texas to Wichita Falls in the gateway to West Texas, then taking a gerrymandered pipeline around to the Texas Panhandle, and to towns on the same latitude with Oklahoma City. This means that Springer has the connections to gain significant support for a run for higher office, although he had to draw his attention south and east a bit to the suburban Dallas-Fort Worth areas to cinch a victory. Securing Terry Holcomb, a former Texas GOP operations director, as his consultant, helped solidify Springer's advantage of notoriety.
Conclusion: Movement conservatives unhappy with Gov. Abbott's COVID-19 responses saw an opportunity and went for it. They also saw an opportunity to keep an ally of the moderate House leadership from winning a Senate seat. By running a candidate who came within striking distance of Abbott's endorsed candidate, it demonstrated that Texans are not happy with businesses closures (at least) nor leadership in the House. Abbott has recently signaled that despite a recent swelling of coronavirus cases he has no intention on repeating last summer's shutdown protocols — those two decisions could be somewhat related though we'll reserve judgment on that.
Luther, speaking on her own merits, came out of the woodwork as a hero of private enterprise and became a household word in North Texas practically overnight. Perhaps a geographically large Texas Senate District was an overreach for a virtual unknown. Her handlers would be wise to keep her warm for a future run if indeed she keeps to her word and is "not going anywhere." Until then, Luther may wish to build her Republican credentials and curry some favor from the well-connected class. She already has everything else.
Advertisement
Advertisement