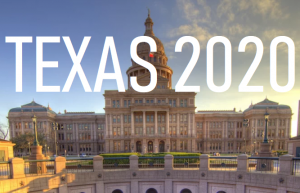 While critics are pointing out the lack of a centralized fundraising effort as a disadvantage for Texas Republicans, GOP candidates are still making some hefty fundraising hauls.
A key fundraising deadline passed Jan. 15, and according to reports statewide officials added millions of dollars to their campaign coffers in the last half of 2019.
Between July and December, Republican Gov. Greg Abbott raised about $7.8 million, spent $3.6 million and maintains a cash-on-hand war chest of $32.9 million.
Republican Lt. Gov. Dan Patrick raised $2.3 million in that same period, spending only $870,000 and maintaining $13.4 million cash-on-hand.
Attorney General Ken Paxton hauled in around $1 million and reported $4.4 million cash on hand.
Land Commissioner George P. Bush raised just under $770,000 and maintains about $1.3 million (even during criticism regarding the General Land Office's plans to renovate the Alamo complex, which involved a high-profile spat with Lt. Gov. Patrick).
From the hip: Here's the kicker: Yet neither Abbott nor Patrick nor Paxton nor Bush are running for re-election this year. Only Patrick has hinted he will run again in 2022.
The Hayride is still combing through campaign finance reports, but if this is any indicator of how those not up for re-election are doing then Republicans are sailing along fine.
Observers have speculated that Abbott's campaign is filling in a fundraising void created by the absence of a Texas House Speaker to unify GOP fundraising efforts. Speaker Dennis Bonnen announced over the summer he would not seek re-election following an investigation into a possible quid pro quo arrangement caught on tape. Bonnen continues to serve as Speaker, having issued interim charges and just today naming colleague Rep. Giovanni Capriglione as Appropriations committee chairman.
Meanwhile, Texas Democrats continue to witness the pouring in of resources from around the country as Texas becomes a battleground. On Thursday, the Democratic Congressional Committee added U.S. Rep. Dan Crenshaw to a list of targeted Republicans. This week, Florida-based Majority Forward began airing ads attempting to pick up the Texas House District 29 open seat in the Houston area.
It's not over, but Republicans apparently haven't suffered as a result of the Speaker shakeup.