Since we're nearing the end of 2015, we figured we'd bring readers the Hayride's biggest moments and most shared stories of the year including Syrians in New Orleans all the way to that F. King debacle. Enjoy and Happy New Year from the Hayride!
After the Hayride broke the exclusive story on Syrian refugees possibly resettling in Baton Rouge, Lafayette and Metairie, it has now come to light that refugees are already coming into the New Orleans area.
Catholic Charities, which receive federal grants from U.S. Department of State/Bureau of Population, Refugees and Migration, have apparently taken in two Syrian refugee families already and are expecting many more.
At least one Syrian refugee that was in the process of resettling in the Baton Rouge area has already gone missing, according to a report by WBRZ.
Here's what WBRZ posted to Facebook today: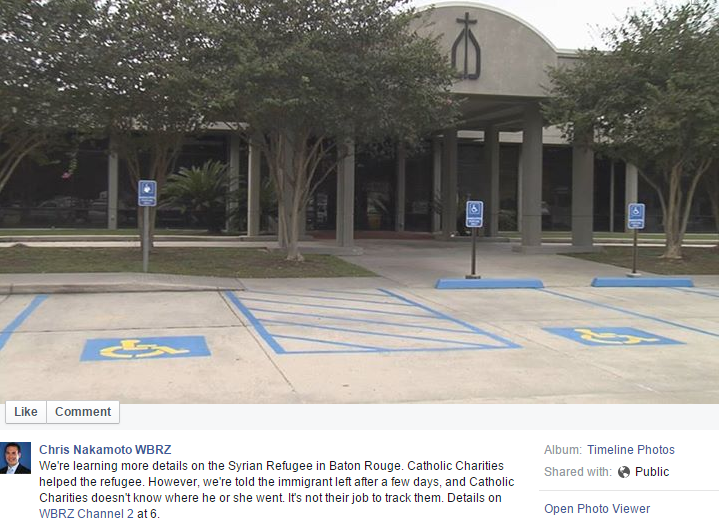 All week long, the assumption was that Miles would be coaching his last game, and that a cake that had been slowly baking since the Jan. 9, 2012 disaster of a 21-0 loss to Alabama in the national championship game was finally ready for serving. Fueling that assumption were reliable reports that a deal was in the works to replace Miles with Florida State's head coach Jimbo Fisher, who had been the offensive coordinator in Baton Rouge during the five years of Nick Saban's tenure and the first two of Miles', with a $30 million contract over five years.
Something went wrong with the Fisher deal Friday or Saturday. Saturday Fisher was reported to have told the president at Florida State that he was staying and had no interest in any other jobs. The word on the street initially was that Fisher's agent, the somewhat-infamous Jimmy Sexton, had surfaced late in the process with some additional demands which were deal-breakers. But after the game a different word surfaced; namely that it wasn't Fisher or Sexton who blew up the deal but that it happened on LSU's end. Specifically, that LSU's president F. King Alexander blanched at spending the money to hire Fisher.
When the announcement came last week that the Louisiana State Troopers Association was endorsing John Bel Edwards, we figured it was more or less the same thing as the Sheriffs' Association – a combination of personal connections, resistance to some reforms and funding alterations David Vitter has proposed (and perhaps a resistance to the idea of changing the Louisiana State Police's mission by installing a permanent troop presence in New Orleans, which is the most important policy issue involving the State Police in this election) and maybe some reluctance by a law enforcement organization to endorse a candidate accused by his opponent of "breaking the law." (Though as Oscar noted last night, the statute of limitations has likely run on that, but not on this bit of lawlessness).
But it turns out all of those factors may not have been at play after all. This Facebook post has been shared nearly 150 times as of this post's publication…
New Orleans will soon never be the same.
Since the Charleston, South Carolina shooting, where a white man shot and killed nine black men and women, Mayor Mitch Landrieu of New Orleans has mentioned that he planned to replace Robert E. Lee Circle with another public figure.
Landrieu's rationale? The Confederacy is racist and therefore, in order to be politically correct, anything in the city of New Orleans remotely related to the Confederacy must be removed immediately.
Today, Landrieu has called for the removal and replacement of these four Confederacy-related monuments throughout the city: General Robert E. Lee Monument, known as Lee Circle, the General P.G.T. Beauregard Equestrian Statue, the Jefferson Davis Monument and the Liberty Monument.
With so many mixed messages about the two remaining candidates for governor, a voter has to look beyond the advertising to find the real facts. The best way to do that is to review the ACTUAL voting records of both men and to talk to those who have served alongside them. I have served alongside John Bel Edwards in the Louisiana House of Representatives since 2010, and based upon that history, I believe electing him governor would be a critical mistake for Louisiana.
I have served on committees with Edwards, interacted with him on a daily basis and I am very familiar with his political philosophies and positions which are out of step with most of the people of Louisiana. For example, I watched this year as he rallied the Democratic caucus in support of a $450 million cut to higher education. If he had been successful at rallying a few more votes, several Louisiana universities including LSU medical school in Shreveport would have been facing closure this year. This is not merely an accusation or political posturing. It is a fact.
Last week, the list of Louisiana subscribers to the dating/affair website known as 'Ashley Madison,' where married people go to cheat on their spouses, was released on the dark web.
Now, however, the once obtainable lists have been removed from their underground internet location.
The links used to review the list of statewide subscribers was obtained by the Hayride a week ago, but have since been removed and the only way to get a copy of the list again would be if web-surfers screenshot-ed the entire list, which would have taken an extensive amount of time.
New Orleans seems to have its priorities mixed up.
Last year, the public heard from the news media and Mayor Mitch Landrieu's administration how the murder rate was at a decades-long low. The murder rate in 2014 had not been that low since the 1970's.
Fast-forward to 2015, and there is an entirely different picture of New Orleans. The murder rate, like violent crime, is out of control once again.
So far in 2015, there have been close to 100 murders (98 to be exact) in the city. In the New Orleans Police Department (NOPD) 7th District alone, there have already been over 20 murders.
New Orleans private business owners are not going to take city regulations that could hurt business lying down.
The latest wide-sweeping regulation in the overly regulated Big Easy is a smoking ban which mandates that businesses prohibit smoking in all sections of their business venue and document to the city with complaints if indoor, illegal smoking occurs.
Over 50 business owners in the French Quarter and other parts of the city have signed on to a Civil District Court lawsuit which questions the legality of the business regulation, saying that the smoking ban is too vague and broad.